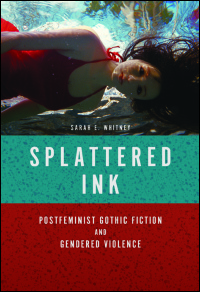 Splattered Ink
Postfeminist Gothic Fiction and Gendered Violence
Awards and Recognition:
• Co-winner, Emily Toth Award for Best Single Work in Women's Studies, Popular Culture Association/American Culture Association (PCA/ACA), 2016
Tales told on the dark side of contemporary women's fiction
In-depth and refreshingly readable, Splattered Ink is a bold analysis of postfeminist gothic, a literary genre that continues to jar readers, reject happy endings, and find powerful new ways to talk about violence against women.
Sarah E. Whitney explores the genre's challenge to postfeminist assumptions of women's equality and empowerment. The authors she examines--Patricia Cornwell, Jodi Picoult, Susanna Moore, Sapphire, and Alice Sebold--construct narratives around socially invisible and physically broken protagonists who directly experience consequences of women's ongoing disempowerment. Their works ask readers to inhabit women's suffering and to face the uncomfortable, all-too-denied fact that today's women must navigate lives fraught with risk. Whitney's analysis places the authors within a female gothic tradition that has long given voice to women's fears of their own powerlessness. But she also reveals the paradox that allows the genre to powerfully critique postfeminism's often sunshiney outlook while uneasily coexisting within the same universe.
"This significant addition to the scholarship on postfeminism provocatively and powerfully reads a too-often-overlooked category of print fiction. Splattered Ink vividly addresses the 'dark side' of postfeminism, generating a sturdy, supple analytic frame for female-authored, often avidly female-consumed books about women's victimization and vulnerability that belie postfeminism's customary preference for stock themes of empowerment and resilience and affective investment in the sanguine and upbeat."--Diane Negra, author of What a Girl Wants? Fantasizing the Reclamation of Self in Postfeminism

"Whitney does a great job of moving back and forth from the specific to the general throughout the manuscript, which makes for a great read and a strong and persuasive argument."--Astrid Henry, coauthor of Feminism Unfinished: A Short, Surprising History of American Women's Movements

"Whitney engagingly extends the contemporary female Gothic canon into the 21st Century."--Helene Meyers, author of Femicidal Fears: Narratives of the Female Gothic Experience
---
To order online:
//www.press.uillinois.edu/books/catalog/85rgz8tr9780252040467.html
To order by phone:
(800) 621-2736 (USA/Canada)
(773) 702-7000 (International)
Related Titles