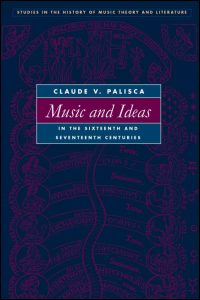 Music and Ideas in the Sixteenth and Seventeenth Centuries
Awards and Recognition:
Awarded the ASCAP Deems Taylor Special Recognition Award (2007).
A masterful investigation of the close interrelationships between music and intellectual history
During the great upheavals in the sixteenth and seventeenth centuries, Europe was divided over ideas about religion, science, education, economy, and government. The Church fought the Reformation, scholars formed into competing universities, and trade became increasingly internationalized. Musicians and musicologists of the time could not ignore the contending factions, and the general ferment of ideas ran parallel to thinking about music, as well as strongly affecting its practical composition and performance. As a result, the sixteenth and seventeenth centuries present a special opportunity to study the relationship between music and ideas.
Music and Ideas in the Sixteenth and Seventeenth Centuries shows Claude V. Palisca--one of the preeminent musicologists of our time--at the height of his powers, discussing the relationships between musical style and intellectual history, the influence of humanism on the revival of music theory, the competing notions of style, and the intermingled effects of rhetoric, poetics, religion, and science. Palisca's discussions demonstrate how this period's musical thought was penetrated by many aspects of culture, including religious reform, secularization, the emergence of vernacular literature, documentary historiography, the rise and decline of neo-Platonism, Aristotelian poetics, the scientific movement, the revival of rhetoric, and openness to emotional experience. This summation of Palisca's life work was nearly finished in 2001, when Palisca died. It was brought to completion by Thomas J. Mathiesen.
---
"Claude Palisca was indeed a prolific scholar, but the steady stream of books, articles, editions, and reports that he produced over the years from 1954 into the late '90s is far more notable for its high quality than for its admittedly impressive bulk. . . . As one might expect, the level of the book as a whole is very high. . . . What he and his editor have given us in Music and Ideas is at once a reader-friendly digest - a sumula - of, and an introduction to, his scholarly oeuvre."--Renaissance Quarterly

"Palisca's book is engaging reading for those who already know the subject, accessible to interested non-specialists, and indispensable for students. At a reasonable price, even in cloth, it deserves to make its way quickly into many classrooms and personal libraries."--Music and Letters
"Engagingly written for non-specialists (and even non-musicians), yet invaluable for the expert, this remarkable book is both the final summation of a lifetime's distinguished scholarship by the acknowledged master in the field and a stimulating, thorough and authoritative introduction to nearly every aspect of a lively and complex cultural and intellectual milieu of great historical significance: the musical world of the Renaissance and early Baroque, when the rediscovery of classical antiquity helped transmute the medieval into the modern. A profoundly generous legacy by a master scholar and teacher."--David E. Cohen, Columbia University

"It is hard to imagine anyone better qualified to write this book than Claude Palisca. Music and Ideas in the Sixteenth and Seventeenth Centuries brings together his vast learning on Renaissance musical thought in a concise and readable volume that will be of value to scholars and students alike. It is a fitting culmination to this distinguished scholar's career."--Thomas Christensen, professor of music, University of Chicago
---
To order online:
//www.press.uillinois.edu/books/catalog/85wpf2rh9780252031564.html
To order by phone:
(800) 621-2736 (USA/Canada)
(773) 702-7000 (International)
Related Titles