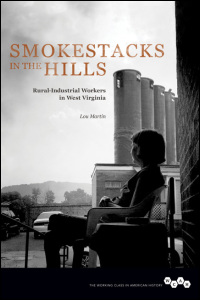 Smokestacks in the Hills
Rural-Industrial Workers in West Virginia
Awards and Recognition:
• Honorable mention, David Montgomery Award, Organization of American Historians (OAH), 2016
Welding together factory life and local ways in a changing countryside
Long considered an urban phenomenon, industrialization also transformed the American countryside. Lou Martin weaves the narrative of how the relocation of steel and pottery factories to Hancock County, West Virginia, created a rural and small-town working class--and what that meant for communities and for labor.
As Martin shows, access to land in and around steel and pottery towns allowed residents to preserve rural habits and culture. Workers in these places valued place and local community. Because of their belief in localism, an individualistic ethic of "making do," and company loyalty, they often worked to place limits on union influence. At the same time, this localism allowed workers to adapt to the dictates of industrial capitalism and a continually changing world on their own terms--and retain rural ways to a degree unknown among their urbanized peers. Throughout, Martin ties these themes to illuminating discussions of capital mobility, the ways in which changing work experiences defined gender roles, and the persistent myth that modernizing forces bulldozed docile local cultures.
Revealing and incisive, Smokestacks in the Hills reappraises an overlooked stratum of American labor history and contributes to the ongoing dialogue on shifts in national politics in the postwar era.
---
"Smokestacks in the Hills: Rural-Industrial Workers in West Virginia is excellent scholarship that will be of lasting value to labor historians as well as business leaders interested in how past entrepreneurs were able to develop, in rural settings, nationally prominent manufacturing facilities in the steel and pottery industries and to do so in a manner that allowed for more local control of both the marketplace and the communities surrounding the industrial development. . . . Much more than just a traditional labor history tome. Although this is a scholarly work of considerable repute, it is east to read and is worth the attention of business leaders interested in the development of a distinctive economy in West Virginia."--The State Journal, Charleston, WV

"Smokestacks in the Hills stands as an excellent corrective to more urban-oriented studies and represents a strong addition to the literature of American working-class history."--West Virginia History

"Martin's historical analysis of working life in Hancock County provides a perspective that is both relevant and illuminating."--Labour

"Novel and compelling. . . . Sheds new light on the overlooked historical experiences of rural-industrial workers."--Journal of Southern History

"Martin's Smokestacks in the Hills historicizes and raises important questions about class solidarity, agency, and power, especially when rooted in localized institutions and cultural norms. The significance of the book is in Martin's primary focus on a sometimes unexplored layer of analysis--the importance of place--to scholarship grappling with class identity and its expression through class-based organizations."--Business History Review

"Smokestacks in the Hills contributes to our understanding of Appalachia and how it diverged from many of the traditional norms of American labor history."--Journal of Appalachian Studies

"Martin artfully weaves discussions of the technical aspects of pottery and tinplate production with a broader reading of gender and politics at the workplace."--Journal of Social History
"Lucidly written with equal attention to the big picture and the small, demographic/economic statistics and the diverse voices of workers recounting their experiences and what they make of them, Smokestacks in the Hills is both an elegy for a brief moment of rural industrial stability and a cogent analysis of the strengths and limits of a working-class culture of 'making do.' A wonderful book--a sad story that somehow heartens."--Jack Metzgar, author of Striking Steel: Solidarity Remembered

"Martin's wonderful book alerts all twentieth-century U.S. labor historians that we are telling only half the story if we ignore rural industrial workers and their local orientations forged through connections to land, place, family, and community."--Lisa M. Fine, author of The Story of Reo Joe: Work, Kin, and Community in Autotown, U.S.A.

"An interesting explanation for the conservatism and occasionally antiunion sentiments of a group of industrial workers that contrasts with the philosophies and sentiments most commonly chronicled among urban workers."--Brooks Blevins, author of Ghost of the Ozarks: Murder and Memory in the Upland South

"Lou Martin has produced a deeply researched and expertly crafted history of rural workers in an Appalachian county, a study that reveals how experiences on the countryside shaped class identities and social relations in industrial workplaces. Martin's sensitive portrait of West Virginia potters and steel workers goes a long way toward correcting the big city bias in our labor and industrial history, and it helps us understand why values like independence and self help shaped how rural folk asserted their own preferences when faced with national forces in the form of corporate welfare programs, CIO unions, New Deal programs, and the impacts of deindustrialization. Smokestacks in the Hills is a pathbreaking book."--James Green, author of The Devil Is Here in These Hills: West Virginia's Coal Miners and Their Battle for Freedom
---
To order online:
//www.press.uillinois.edu/books/catalog/86pxc4ge9780252039454.html
To order by phone:
(800) 621-2736 (USA/Canada)
(773) 702-7000 (International)
Related Titles