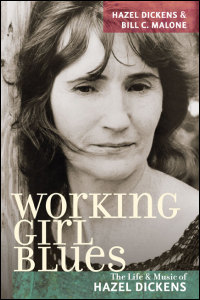 Working Girl Blues
The Life and Music of Hazel Dickens
Awards and Recognition:
Winner of a Certificate of Merit for the Association for Recorded Sound Collections (ARSC) Award for Excellence in Historical Recorded Sound Research, 2009
The life story of singer and songwriter Hazel Dickens, the inspiring voice of a whole generation of women and workers
Hazel Dickens was an Appalachian singer and songwriter known for her superb musicianship, feminist country songs, union anthems, and blue-collar laments. Growing up in a West Virginia coal mining community, she drew on the mountain music and repertoire of her family and neighbors when establishing her own vibrant and powerful vocal style that is a trademark in old-time, bluegrass, and traditional country circles. Working Girl Blues presents forty original songs that Hazel Dickens wrote about coal mining, labor issues, personal relationships, and her life and family in Appalachia. Conveying sensitivity, determination, and feistiness, Dickens comments on each song, explaining how she came to write them and what they meant and continue to mean to her. Bill C. Malone's introduction traces Dickens's life, musical career, and development as a songwriter, In addition, Working Girl Blues features forty-one illustrations and a detailed discography of Dickens's commercial recordings.
---
"Working Girl Blues puts the spotlight on a magnificent performer whose accomplishments and talents have always been valued by the country, bluegrass, and folk audiences, but now hopefully will get the same acclaim from the mainstream as well."--Nashville City Paper

"Dickens comments generously on each song, revealing her strong personality. . . . A fine profile of a roots musician who has been a pioneering woman in bluegrass as well as the foremost American protest singer of the later twentieth century."--Booklist

"Dickens' lyrics and thoughts on the likes of 'Mama's Hand,' 'It's Hard to Tell the Singer From the Song,' and the book's title song blend the personal and the political in remarkable ways, and they're the heart of this substantial story."--American Songwriter

"Inspiring. . . . highly readable and ultimately unforgettable."--Bluegrass Now

"A solid and readable account of a career that crossed many boundaries and defied expectations."--Journal of Folklore Research

"This is an important study of a seminal country performer and songwriter. Highly recommended."--Choice

"Hazel Dickens is an icon, and it is about time a book-length biography was published about her. . . . A treat for friends and fans."--Goldenseal

"All fans of traditional music and students of feminism, southern culture, and labor movements, should read and revel in Working Girl Blues.--PopMatters

"[This] volume does a marvelous job of capturing the essence of Hazel."--Sing Out

"This book is a fitting testament to Hazel Dickens's lively and ongoing career."--European Journal of Communication

"Working Girl Blues succinctly yet comprehensively surveys a remarkable artistic career and the circumstances in which it has progressed from the perspectives of the artist herself and a distinguished scholar. . . This book will be an invaluable resource to anyone who wishes to understand the contexts surrounding Dickens's achievements and the historical developments of which her life is illustrative."--H-Southern-Music

"An important contribution to literature covering the American folk revival."--ARSC Journal

"Thanks to Working Girl Blues, when future generations discover Dickens's music, they can also learn what shaped and inspired her to be on the front lines of and give voice to twentieth-century Appalachia's most important battles."--West Virginia History
"A fascinating portrayal of how one Appalachian native navigated the American shoals. Dickens's voice illuminates the pristine, original, and enduring folk culture of the region and will stimulate readers to ask larger questions about American polity. Folksong buffs, sophisticated feminists, labor partisans, and American and Appalachian studies scholars will be among the enthusiasts for this phenomenal book."--Archie Green, author of Tin Men

"As a musician, Hazel Dickens has an immediately recognizable voice that perfectly captures the grittiness of the songs she writes. The songs themselves reflect the lives and struggles of the mountain people she grew up with and have acted as a conduit through which the whole country gained a more intimate knowledge of Appalachia. In this effortless, fast-moving narrative, we hear Dickens telling--in her own voice--how she is influenced by her life and times. A thoroughly enjoyable read."--Ellen Wright, coauthor of Pressing On: The Roni Stoneman Story
---
To order online:
//www.press.uillinois.edu/books/catalog/86taw6ks9780252033049.html
To order by phone:
(800) 621-2736 (USA/Canada)
(773) 702-7000 (International)
Related Titles