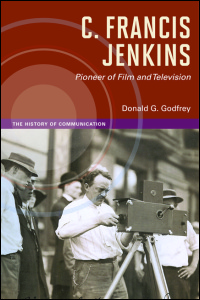 C. Francis Jenkins, Pioneer of Film and Television
The achievements of a pioneer inventor of television and film
This is the first biography of the important but long-forgotten American inventor Charles Francis Jenkins (1867-1934). Historian Donald G. Godfrey documents the life of Jenkins from his childhood in Indiana and early life in the West to his work as a prolific inventor whose productivity was cut short by an early death. Jenkins was an inventor who made a difference.
As one of America's greatest independent inventors, Jenkins's passion was inventing to meet the needs of his day and the future. When he was away from home for the first time, he struggled to describe to his family the beauty of the Western vistas he saw. Early photography allowed him to share his experiences, but the results showed him both its imperfections and its potential. As an inventor he constantly struggled to improve means of transmitting images, first via film, and later via television.
In 1895 Jenkins produced the first film projector able to show a motion picture on a large screen, coincidentally igniting the first film boycott among his Quaker viewers when the film he screened showed a woman's ankle. Jenkins produced the first American television pictures in 1923, and developed the only fully operating broadcast television station in Washington, D.C. transmitting to ham operators from coast to coast as well as programming for his local audience.
Jenkins's inventiveness was not limited to mechanical and electronic production of images. His diverse patents include optics, airplane engines, an automobile, and a sanitary milk carton. He also founded the organization now known as the Society of Motion Picture and Television Engineers.
Godfrey's biography raises the profile of C. Francis Jenkins from his former place in the footnotes to his rightful position as a true pioneer of today's film and television. Along the way, it provides a window into the earliest days of both motion pictures and television as well as the now-vanished world of the independent inventor.
---
"Media historians have not overlooked Charles Francis Jenkins, but neither have they given his story its due. Don Godfrey corrects this imbalance by probing traditional sources and cultivating evidence buried in unusual records--including Jenkins's 283 patents. C. Francis Jenkins is a much-needed improvement to existing histories and an indispensable reference for any future treatments of media technology. . . . brings an American visionary to life."--Journalism & Mass Communication Quarterly

"Godfrey has produced a biography of the underappreciated inventor that excels both in its completeness and in its engaging readability. The book is an excellent example of history that is both thoroughly researched and eminently readable."--Journalism History
"Almost eighty years following Jenkins' death, the story of his life and many achievements is finally being told."--Robin Vierbuchen Sproul, Vice President and Washington Bureau Chief, ABC News

"With his biography of Francis Jenkins (indeed, the first ever), Don Godfrey again demonstrates his "chops" as a historian willing to do the archival digging necessary to rescue a story worth telling. As in his earlier study of Philo Farnsworth, Godfrey sorts out the sometimes controversial pieces of a career that--for a time--seemed to show the way to widespread use of television. Especially interesting is Jenkins' creative work in both film and television at their very dawning. This is a life well worth reading."--Christopher H. Sterling, author of Stay Tuned: A Concise History of American Broadcasting and Sounds of Change: A History of FM Broadcasting in America

"C. Francis Jenkins, Pioneer of Film and Television makes a substantial contribution to the literature on film and electronic communication. Godfrey's scholarship is exceptional and exhaustive. He left no stone unturned in compiling his resources to write this book."--Louise M. Benjamin, author of The NBC Advisory Council and Radio Programming, 1926-1945
---
To order online:
//www.press.uillinois.edu/books/catalog/86tps3qx9780252038280.html
To order by phone:
(800) 621-2736 (USA/Canada)
(773) 702-7000 (International)
Related Titles