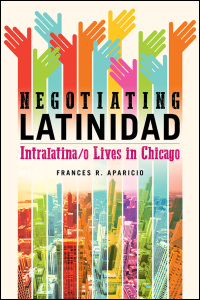 Negotiating Latinidad
Intralatina/o Lives in Chicago
Awards and Recognition:
• Richard A. Yarborough Mentoring Award, American Studies Association, 2020
One family, multiple identities, and today's changing Latina/o world
Longstanding Mexican and Puerto Rican populations have helped make people of mixed nationalities—MexiGuatemalans, CubanRicans, and others—an important part of Chicago's Latina/o scene. Intermarriage between Guatemalans, Colombians, and Cubans have further diversified this community-within-a-community. Yet we seldom consider the lives and work of these Intralatina/os when we discuss Latina/os in the United States.
In Negotiating Latinidad, a cross section of Chicago's second-generation Intralatina/os offer their experiences of negotiating between and among the national communities embedded in their families. Frances R. Aparicio's rich interviews reveal Intralatina/os proud of their multiplicity and particularly skilled at understanding difference and boundaries. Their narratives explore both the ongoing complexities of family life and the challenges of fitting into our larger society, in particular the struggle to claim a space—and a sense of belonging—in a Latina/o America that remains highly segmented in scholarship. The result is an emotionally powerful, theoretically rigorous exploration of culture, hybridity, and transnationalism that points the way forward for future scholarship on Intralatina/o identity.
---
"Rae Linda Brown has created a very readable and interesting account of Florence Price and her major compositions." --Black Grooves
"A valuable and welcome addition to the literature in Latina/o studies. I commend Aparicio on this important work. It will be a significant contribution to thinking about multicultural identities in immigrant-descendant generations, and about the traditional paradigm of American assimilation."--Rina Benmayor, coeditor of Memory, Subjectivities, and Representation: Approaches to Oral History in Latin America, Portugal, and Spain

"Aptly interweaving humanities and social science approaches to identity, Aparicio sets up some of the building blocks for what Latino studies will become in the twenty-first century. Her compelling engagement with storytelling by Latinos articulating IntraLatina/o identities in Chicago is a groundbreaking intervention in the study of U.S. Latinidad that transcends while honoring cultural nationalist models that may not always serve to capture our realities. Her use of the concepts 'horizontal hierarchies' and 'affective essentializing' to analyze co-existence, competition, love, conflict, and solidarity leaves us rethinking our lives in inter-Latino communities and how we describe them. While reading about linguistic battles between parents, grandmas seeking to win over their intraLatina/o children through food, and college students trying to find a sense of belonging to inter-Latino families, communities, and college settings, the reader witnesses intimate spaces of kinship building by intraLatina/os and is deeply engaged by the courageous truths of our communities."--Alaí Reyes-Santos, author of Our Caribbean Kin: Race and Nation in the Neoliberal Antilles
---
To order online:
//www.press.uillinois.edu/books/catalog/87pkc8xn9780252042690.html
To order by phone:
(800) 621-2736 (USA/Canada)
(773) 702-7000 (International)
Related Titles