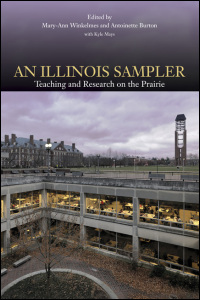 An Illinois Sampler
Teaching and Research on the Prairie
How world-class research makes its way into lecture halls and seminar rooms
Major research universities expect faculty to conduct significant research but also to excel as teachers. Too often those outside the classroom assume that these two functions have little in common when in fact the best teachers conduct exciting and innovative research that provides students the opportunity to learn by doing.
An Illinois Sampler presents personal accounts from faculty members at the University of Illinois at Urbana-Champaign and other contributors, about their research and how it enriches and energizes their teaching. Contributors from the humanities, engineering, social and natural sciences, and other disciplines explore how ideas, methods, and materials merge to lead their students down life-changing paths to creativity, discovery, and solutions. As faculty introduce their classes to work conducted from the Illinois prairie to the farms of Africa, from densely populated cities to dense computer coding, they generate an atmosphere where research, teaching, and learning thrive inside a feedback loop of education across disciplines.
Aimed at alumni and prospective students interested in the university's ongoing mission, as well as current faculty and students wishing to stay up to date on the diverse work being done around them, An Illinois Sampler offers a rare glimpse into the impact of cutting-edge research on undergraduate education in a rapidly changing world. The book also showcases the best, the most ambitious, and the most effective teaching practices developed and nurtured at one of the world's premier research universities.
---
"An Illinois Sampler: Teaching and Research on the Prairie highlights teaching methods at the University of Illinois that can be applied elsewhere. It would be an excellent book for a new professor, including one looking for field opportunities for their students. An Illinois Sampler is both a recommended read and endeavor."--Reflective Teaching
"The late Ernie Boyer inspired his readers when he wrote about the 'scholarship' of teaching. Years later, the engagement of faculty in the scholarly assessment of what students know and can do and in the exploration of ways in which these outcomes might be improved remains a formidable challenge. This is especially the case in complex research universities. In this timely volume and in fields as diverse as dance, geology, music, medicine, kinesiology, mathematics, engineering, and microbiology we have firsthand accounts of what faculty members are doing to make a better tomorrow. The narratives are as inspiring as they are practical and deserve to be shared and read by those who care about the quality of American universities."--Stanley Ikenberry, President Emeritus of the University of Illinois

"The land-grant model is discovery of new knowledge, teaching students, and engaging the broader community. Something is lost when you try to separate the three concepts because they are mutually enriching--discovery comes in part by engaging the community, discovery by faculty and students strengthens education, etcetera. In this time of accountability and scarce resources, the academy must better explain this integration of effort, particularly in connection with the allocation of faculty time and compensation to research and engagement. The stories of scholar-educators from the University of Illinois, one of the great land-grant universities of the country, wonderfully illustrate how this all works."--Peter McPherson, President Emeritus of Michigan State University and President of the Association of Public and Land-grant Universities
---
To order online:
//www.press.uillinois.edu/books/catalog/87rsg6yq9780252038648.html
To order by phone:
(800) 621-2736 (USA/Canada)
(773) 702-7000 (International)
Related Titles