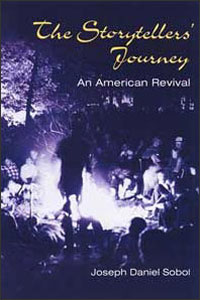 The Storytellers' Journey
An American Revival
Awards and Recognition:
An Anne Izard Storytellers' Choice Award winner for notable storytelling resources published in 1999. Winner of a Storytelling World Award in the Special Storytelling Resources category.
This is the seed of The Storytellers' Journey, Joseph Daniel Sobol's history of the past thirty years of American storytelling. In this compelling examination of the contemporary search for myth, Sobol explores the social and psychological roots of the storytelling revival and the ever-resurgent power of the storyteller.
Drawing on interviews with dozens of storytellers around the country, Sobol paints the revival as part of a larger process of cultural revitalization. He traces the growth of the preeminent revival organization, the National Association for the Preservation and Perpetuation of Storytelling (NAPPS), and details the individual passions, the organizational politics, and the economic, social, and mythic forces that have combined to transform a ragtag assemblage of enthusiasts into a national and international network of arts professionals.
A seemingly chance encounter between a restlessly ambitious high school teacher and a coonhunting tale on the car radio sets off a chain of inspirations that changes the face of a small southern town, touches lives across America, and revitalizes a homely but treasured art form.
---
"Refreshingly candid and honest without being judgmental." — Adventures in Storytelling Magazine
"Sobol focuses on the history of the storytelling revival in the U.S., particularly of the National Storytelling Association (aka NAPPS) from its earliest hay wagon festival days in Jonesborough TN to its apogee in the early 1990's. He analyzes the social and political forces of the 70's which made people crave traditional roots and spiritual rebirth, comparing it to earlier folk revival periods. Such scholarly stuff can't be boring when Sobol's sharp insights and vivid words keep us snapped to attention." — Fran Stallings, Territorial Tattler
"A fascinating view into the revitalized storytelling world. . . . These interviews, interspersed with snippets of the stories characteristic of the tellers, provide arich insight into the individuals working to keep contemporary storytelling alive."— Choice
"The texture and rhetoric of his ethnography are richly descriptive and unabashedly mythic, enriched with passionate personal reminiscence and lifted by leaps of critical imagination and delight in the power of stories, their tellers, and the intense shared moments of festival storytelling as performance art. . . . This striking mix of spiritual autobiography and historical account is carefully researched and so thorough and thoughtful in its development that it stands as the definitive analysis of the storytelling revival and its place in American popular culture." — Thomas McGowan, Appalachian Journal
"Sobol presents a detailed, scholarly yet readable examination of the movement —from the vision and drive of Jimmy Neil Smith and a handful of fledgling tellers to the present. Dozens of interviews with storytellers give an intimate look at the personalities and issues-cohesive and/or divisive — that challenge the growing and changing National Storytelling Association. Students of culture, folklore, anthropology, and mythology will find an in-depth study of this aspect of American folk culture and performing arts." — Judy Sokoll, School Library Journal
"The rise of the National Storytelling Festival . . . and of the first national association of storytellers . . . make for a thoughtful yarn on how folkways are preserved and transformed in order to be retailed on modern stages." — thefolknik
To order online:
//www.press.uillinois.edu/books/catalog/88fpr7ea9780252067464.html
To order by phone:
(800) 621-2736 (USA/Canada)
(773) 702-7000 (International)
Related Titles