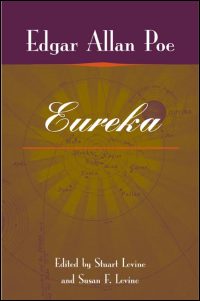 Eureka
The premier scholarly annotated edition of Poe's Eureka
Originally published in 1848, Eureka is Poe's book on how the universe was formed, how it functions, and what its future might be. Poe provides a physical, scientific explanation for the interconnectedness of all things--an idea at the heart of much of nineteenth-century romanticism and American Transcendentalism in particular.
This user-friendly edition puts Eureka in context, explaining Poe's excellent grasp of then-new developments in astronomy, his often-prescient projections from what was known to what might come next (Poe is especially good on space-time), and the close connections between Eureka and the thought and attitudes of his era.
Through extensive annotations this edition of Eureka demonstrates intimate connections with Poe's poetry, fiction, and criticism, with his career and aspirations, his humor and satire, and his love of grand literary effects. It also presents a carefully edited text, including Poe's own emendations from several copies which he marked for the revised reprinting that he hoped would follow, and related documents.
---
"By including variants, biographic information, historic background, and explanatory notes, editors have put together a welcome study of Poe's most puzzling work."--Choice
"Outside France [Eureka] has been neglected, but I do not think Poe was wrong in the importance he attached to it. . . . [I]t was a very daring and original notion to take the oldest of the poetic themes--older even than the story of the epic hero--and treat it in an absolutely contemporary way. Secondly, it is full of remarkable intuitive guesses that subsequent scientific discoveries have confirmed."--W. H. Auden

[Eureka] embodies "an affirmation of the symmetrical and reciprocal relationship of matter, time, space, gravity, and light. . . . [Poe] has built an abstract poem, one of the rare modern examples of a total explanation of the material and spiritual universe, a cosmogony. It belongs to a department of literature remarkable for its persistence and astonishing in its variety; cosmogony is one of the oldest literary forms."--Paul Valéry

"Eureka is a work which refuses to be confined within the arbitrary definitions of a genre. [Poe himself called Eureka] . . . 'A Prose Poem' . . . 'An Essay on the Material and Spiritual Universe' . . . a 'Book of Truths' . . . and an 'Art-Product alone,' adding that it should also be taken as 'A Romance; or if I not be urging too lofty a claim, as a Poem.'"--Barton Levi St. Armand
---
To order online:
//www.press.uillinois.edu/books/catalog/88rad8hq9780252028496.html
To order by phone:
(800) 621-2736 (USA/Canada)
(773) 702-7000 (International)
Related Titles