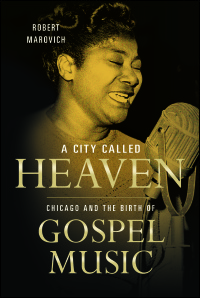 A City Called Heaven
Chicago and the Birth of Gospel Music
Awards and Recognition:
• Certificate of Merit for Best Historical Research in Recorded Blues, Gospel, Soul, or R&B, Association for Recorded Sound Collections (ARSC), 2016
The music that helped free a people and lift a nation
In A City Called Heaven, Robert M. Marovich follows gospel music from early hymns and camp meetings through its growth into the sanctified soundtrack of the city's mainline black Protestant churches. Marovich mines print media, ephemera, and hours of interviews with artists, ministers, and historians--as well as relatives and friends of gospel pioneers--to recover forgotten singers, musicians, songwriters, and industry leaders. He also examines the entrepreneurial spirit that fueled gospel music's rise to popularity and granted social mobility to a number of its practitioners. As Marovich shows, the music expressed a yearning for freedom from earthly pains, racial prejudice, and life's hardships. Yet it also helped give voice to a people--and lift a nation.
A City Called Heaven celebrates a sound too mighty and too joyous for even church walls to hold.
---
"Opens a window on an important part of 20th-century Americana that has been little explored heretofore."--Library Journal

"[An] exhaustively researched history of this important Chicago musical export. . . . Here, in Marovich's important work, are the lesser-known stories of the originators who created a wholly original sound of holiness in Chicago that reverberates today"—Chicago Tribune

"A City Called Heaven is a valuable resource that points to the many voices that were important to the success of gospel music. With his text, Marovich extends an invitation to readers and gospel music lovers to celebrate the beautiful and spirit-filled contributions of those who paved the gospel highway from Chicago to heaven and back."--Black Grooves

"A truly major contribution to the history of African-American music."--Blues and Rhythm

"Robert Marovich's magisterial account explores how the encounter with urban life infused gospel music with blues and jazz, without displacing old habits of ecstatic worship brought from African and baptized by encountering Christianity."--Milwaukee Shepherd Express

"Essential."--Choice

"An impressive, comprehensive combination history, anthology and analysis of black gospel music. A City Called Heaven — Chicago And The Birth Of Gospel Music blends interviews, character studies, rare photographs and numerous magnificent stories and encounters to provide readers with a wide-ranging look at this vital, constantly evolving idiom."-Nashville Scene

"A labor of love. . . . Marovich's book is indispensable music knowledge and a welcome statement on Chicago's cultural legacy."--Popmatters

"A thoroughly researched, dynamic account of gospel music's history in Chicago over five decades. . . . A riveting narrative."--Newcity

"No American metropolis played as mammoth of a role in the development of African-American gospel music as Chicago. And no book has ever examined that complicated movement in such an expansive manner as A City Called Heaven. There's an incredible amount of information packed into its pages; by the time you finish this work, you'll possess extensive insight into the Windy City's sacred music history that simply wasn't available prior to this under one binding."--ARSC Journal

"In A City Called Heaven: Chicago and the Birth of Gospel Music Bob Marovich ploughs deep and wide to connect all of Gospel's variant threads from the late nineteenth through the early twenty-first centuries. . . . Its beauty and practicality as a definitive reference source on Gospel music lies in the book's additional depth, in the attention also given to the unique contributions of countless small and medium-sized players and their accompanying details. . . . A City Called Heaven is a Bible of where Gospel and has been, where it's going, and who's been at the wheel in a century of melding and shaping. An essential new reference."--Chicago Book Review

"In A City Called Heaven: Chicago and the Birth of Gospel Music, Robert M. Marovich offers a discerning look at the role of this city on the genre's development. . . . For recovering rich insight from these sources, Marovich deserves great praise for this timely study. . . . An impressive achievement, and is most worthy of a detailed reading."--Journal of Folklore Research

"A thoroughly and richly drawn history. . . . Marovich has produced an important work that will reward both fans of and serious researchers of gospel music."--Journal of the Illinois State Historical Society

"Marovich uses gospel music in Chicago to show how genre and urban historiography can be combined with one another because the needs and constraints of life in the city ultimately led to the development of a music as a spiritual counterbalance."--Jazzinstitut
"An extraordinary work. A long-overdue history of the city and people at the heart of gospel music, A City Called Heaven is a readable, meticulously researched chronology that provides a link in understanding not just gospel music, but African American music, history, and religion. The book's greatest strength is Robert M. Marovich's unparalleled access to Chicago's gospel music royalty, past and present. The detailed scholarship and analysis is enhanced by hundreds of interviews. Nobody knows Chicago gospel better than Marovich. To use the language of the African American church, it is a 'blessing' to have a scholar who loves this music this much be the one to write this essential history."--Robert Darden, author of Nothing but Love in God's Water, Volume 1: Black Sacred Music from the Civil War to the Civil Rights Movement

"Throughout these fascinating pages, Marovich colorfully shares the blood and sweat, as well as the feuds and collaborations that worked hand in hand to birth this stunning and uniquely American music known as gospel. It's a book worth a loud, boisterous, and affirmative shout!"--Bil Carpenter, author of Uncloudy Days: The Gospel Music Encyclopedia

"Chicago, America's homeland of the soul, is also gospel's capital, its Vatican and Mecca. As early as the 1920s, the city presented the full range of black religious expression, from the high church anthems of the Pace Jubilee Singers to the storefront ecstasies of Bishop F.W. McGee. During the 1930s, as the music evolved into modern gospel, Chicago became the home of its most prolific composer, Thomas A. Dorsey; its most famous soloist, Mahalia Jackson; and its most influential group, the Robert Martin Singers. Their impact was not limited to the gospel circuit. Rhythm and blues, and soul, would be unimaginable without Dinah Washington or Sam Cooke, both of whom began as teenage wonders of their local churches, not to mention their colleagues, the pianists and guitarists who revolutionized the roles of supporting musicians in a secular setting. In the 1950s and 1960s, Chicago soloists like James Cleveland, groups like the Caravans, and quartets like the Staple Singers rocked the nation. It would be more than enough to cover all these subgenres, and the many gifted individuals, each with a memorable story to tell, and Bob Marovich does so with unerring taste and sympathy. But he also explores social and political ramifications, from the 1930s, when Mahalia sang Dorsey songs in honor of her local alderman, to the 1970s, when Jesse Jackson's Operation Push became a vehicle of social protest. Because he doesn't neglect the extramusical side of gospel, his song of the city will ring out for years to come. Students of cultural history will be enthralled. Lovers of gospel, soul, or jazz will be shouting the victory."--Anthony Heilbut, author of The Gospel Sound: Good News and Bad Times

"Detailed and chock-full of original research, it's the book that finally details the history and development of African American gospel music in Chicago."--Kip Lornell, author of "Happy in the Service of the Lord": African American Sacred Vocal Harmony Quartets in Memphis

"A much-needed extended history of Chicago's pivotal role in the development of gospel music, on its growth within the city, and on how its artists, composers, and various media entrepreneurs helped to make gospel a worldwide music form."--Deborah Smith Pollard, author of When the Church Becomes Your Party: Contemporary Gospel Music
Supported by the AMS 75 PAYS Endowment of the American Musicological Society, funded in part by the National Endowment for the Humanities and the Andrew W. Mellon Foundation
---
To order online:
//www.press.uillinois.edu/books/catalog/89knq4ep9780252039102.html
To order by phone:
(800) 621-2736 (USA/Canada)
(773) 702-7000 (International)
Related Titles