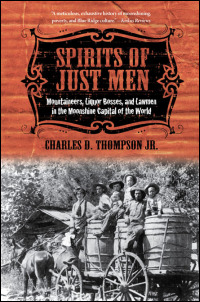 Spirits of Just Men
Mountaineers, Liquor Bosses, and Lawmen in the Moonshine Capital of the World
A rousing tale of moonshine and conspiracy in Depression-era rural Virginia
Spirits of Just Men tells the story of moonshine in 1930s America, as seen through the remarkable location of Franklin County, Virginia, a place that many still refer to as the "moonshine capital of the world." Charles D. Thompson Jr. chronicles the Great Moonshine Conspiracy Trial of 1935, which made national news and exposed the far-reaching and pervasive tendrils of Appalachia's local moonshine economy. Thompson, whose ancestors were involved in the area's moonshine trade and trial as well as local law enforcement, uses the event as a stepping-off point to explore Blue Ridge Mountain culture, economy, and political engagement in the 1930s. Drawing from extensive oral histories and local archival material, he illustrates how the moonshine trade was a rational and savvy choice for struggling farmers and community members during the Great Depression.
Local characters come alive through this richly colorful narrative, including the stories of Miss Ora Harrison, a key witness for the defense and an Episcopalian missionary to the region, and Elder Goode Hash, an itinerant Primitive Baptist preacher and juror in a related murder trial. Considering the complex interactions of religion, economics, local history, Appalachian culture, and immigration, Thompson's sensitive analysis examines the people and processes involved in turning a basic agricultural commodity into such a sought-after and essentially American spirit.
A Reading by Charles Thompson (Historical Photo Edit) from Marissa Katarina Bergmann on Vimeo.
---
"Thompson brings the area to life, offering a portrait of a place that the government forgot, a blue-collar town run amok with barefoot children and well-armed men. . . . A meticulous, exhaustive history of moonshining, poverty and Blue Ridge culture."--Kirkus Reviews

"A well-researched and well-written study and a thought-provoking portrait of 1930s Appalachia."--Library Journal

"This informative, engaging work wonderfully reveals the culture and colorful history of a region with intimate ties to the illegal production and distribution of alcohol during 'Prohibition.'"--Booklist

"Thompson's book is eye-opening not only about the illicit liquor trade but also about the big stage on which moonshining occurred. He paints a rich picture of life in Virginia's mountains in the 1930s. . . . Moonshining has been written about before. But it's unlikely any previous treatment compares to Thompson's in doing justice both to the business and its setting in a certain American time and place."--Washington Independent Review of Books

"A fabulous and thorough collection of stories, facts, drama, character portraits, and court proceedings, including a chronicle of the Great Moonshine Conspiracy Trial of 1935. . . . It reads smoothly and cleanly, like a tightly woven novel. And it's about far more than bootlegging, as Moby-Dick is about far more than whaling."--Garden & Gun

"Thompson tells an important and colorful story."--West Virginia History

"An informative and entertaining account of one of Appalachia's most enduring symbols, the moonshiner."--Virginia Magazine

"An exceptionally passionate, sensitive, and complex analysis of Great Depression-era life in rural Virginia."--The Journal of Southern History

"Worthy of the attention of both scholars and an interested public."--The Historian

"Spirits of Just Men is an example of microhistory at its best."--H-Net Reviews
"A wonderful book! Nobody has ever brought more passionate interest, love, and real connection to a subject than Thompson, whose roots run deep in Franklin County. His examination of the economics of 'blockading'--or moonshining---is fascinating. And his evocation of the lost community of Endicott, its people, and its whole way of life is very moving. A native of southwest Virginia myself, I sat right down and read this book straight through, like a novel, with little shocks of recognition and pleasure all the way."--Lee Smith, author of Mrs. Darcy and the Blue-Eyed Stranger

"This fascinating book convincingly argues the importance of national policy in creating and sustaining what has been perceived as a regional phenomenon. Thompson refutes easy stereotypes and instead gives us a well written and well researched account of what Edith Wharton called 'the hard considerations of the poor.'"--Ron Rash, author of Serena: A Novel

"A fascinating narrative of how mountain farmers responded to the challenges of making a living during hard times. Charles D. Thompson Jr. animates his rich and vivid story of the moonshine business in the 1930s with memorable characters and unique voices."--Patricia D. Beaver, coeditor of Tales from Sacred Wind: Coming of Age in Appalachia

"In Spirits of Just Men, Charles D. Thompson Jr. takes us from a documentary of moonshining in a mountain community to a history of the nation. All in all an excellent read. We are grateful to him."--Will D. Campbell, author of Brother to a Dragonfly
---
To order online:
//www.press.uillinois.edu/books/catalog/89wpw4dq9780252035128.html
To order by phone:
(800) 621-2736 (USA/Canada)
(773) 702-7000 (International)
Related Titles
previous book
next book