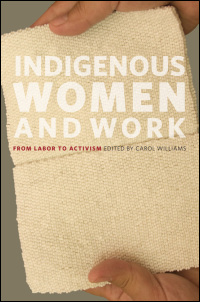 Indigenous Women and Work
From Labor to Activism
Awards and Recognition:
• A Choice Outstanding Title, 2013
The working lives of Indigenous women
The essays in Indigenous Women and Work create a transnational and comparative dialogue on the history of the productive and reproductive lives and circumstances of Indigenous women from the late nineteenth century to the present in the United States, Australia, New Zealand/Aotearoa, and Canada. Surveying the spectrum of Indigenous women's lives and circumstances as workers, both waged and unwaged, the contributors offer varied perspectives on the ways women's work has contributed to the survival of communities in the face of ongoing tensions between assimilation and colonization. They also interpret how individual nations have conceived of Indigenous women as workers and, in turn, convert these assumptions and definitions into policy and practice. The essays address the intersection of Indigenous, women's, and labor history, but will also be useful to contemporary policy makers, tribal activists, and Native American women's advocacy associations.
Contributors are Tracey Banivanua Mar, Marlene Brant Castellano, Cathleen D. Cahill, Brenda J. Child, Sherry Farrell Racette, Chris Friday, Aroha Harris, Faye HeavyShield, Heather A. Howard, Margaret D. Jacobs, Alice Littlefield, Cybèle Locke, Mary Jane Logan McCallum, Kathy M'Closkey, Colleen O'Neill, Beth H. Piatote, Melissa Rohde, Susan Roy, Lynette Russell, Joan Sangster, Ruth Taylor, and Carol Williams.
---
"Readers in search of compelling works in the fields of indigenous studies, women's studies, and women's history will find this work to be an absolute treasure. Recommended."--Choice

"This book of lively and engaging essays looks afresh at the labor relations that have shaped colonizer nations. It provides a cutting-edge text, as well as a useful index, which will guide scholars and students alike."--Western Historical Quarterly

"This volume breaks down the divide between wage work and unwaged work and between production and reproduction, thus stretching the boundaries of labor history, women's history and indigenous history all at once, and doing so in a transnational context."--The Journal of American History

"Indigenous Women and Work brings important historical information to light about women who have been marginalized and excluded from history,"--Labor Studies Journal

"A comprehensive collection of essays spanning the late 18th to late 20th centuries, which detail the lives of working indigenous women in the four settler states of Canada, Australia, New Zealand/Aotearoa and the United States. A broad and rich contribution to the field."--The Canadian Journal of Native Studies

"This book hopes to spark readers to envision a more just way to resist the postcolonial and neoliberal forces that continue to challenge the rights of indigenous women. Throughout history, indigenous women have stood firmly as warriors, preserving the values of culture, family, an community. They stand on the shoulders of the women who have come before hem. This book allows their voices to be heard, bringing their wisdom to the call for peace and justice."--Social Service Review

"A much-needed survey of Indigenous women's work in the settler nations of Australia, Canada, New Zealand, and the United States from the colonial period to recent times. Williams' collection does some heavy lifting for Indigenous women's comparative labour history. Readers will find its contents incredibly helpful in rounding out an undergraduate history course. . . . The book will no doubt occupy an important place at the intersections of labour and Indigenous history for some time."--Labour/Le Travail

"The strength of this volume is in the way it situates the work in the specifics of time and place as well as in relationship to government policies. . . . Its insights are ideal for teaching, but the book is also an inspiration and should encourage further scholarship on the work of Indigenous Women."--Aboriginal History

"Indigenous Women and Work is a superb collection of thought-provoking accounts of women negotiating opportunities in settler nation-states. . . . The book merits wide readership, not only for its abundance of solid data and well-constructed comparisons, but also because it is really a good read."--Anthropology of Work Review

"This book of lively and engaging essays looks afresh at the labor relations that have shaped colonizer nations. It provides a cutting-edge text, as well as a useful index, which will guide scholars and students alike."--Western Historical Quarterly
"This intellectually engaging anthology compiles an excellent array of essays revolving around Indigenous women's relation to labor in the United States, Australia, New Zealand, and Canada. The geographic range allows the reader to see the commonalities and differences between women's work experiences in these various national contexts."--Renya K. Ramirez, coeditor of Gendered Citizenships: Transnational Perspectives on Knowledge Production, Political Activism, and Culture
Publication supported by Trent University
---
To order online:
//www.press.uillinois.edu/books/catalog/89xmc4rr9780252037153.html
To order by phone:
(800) 621-2736 (USA/Canada)
(773) 702-7000 (International)
Related Titles