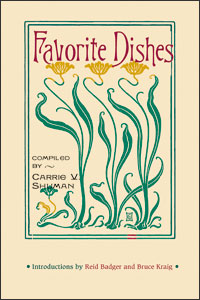 Favorite Dishes
A Columbian Autograph Souvenir Cookery Book
Favorite Dishes affords an unusual and interesting look into the way the early women's movement used conventional means to manipulate their way into a man's world, and provides insight into how food, women, and American attitudes were changing at the end of a century.
Favorite Dishes is a celebrity cookbook of autographed recipes, accented by portraits of the distinguished contributors, that was compiled on the occasion of the 1893 World's Columbian Exposition in Chicago. It is a handsome sourcebook on nineteenth-century cookery as well as a testament to the desire of well-educated, well-placed women to use their position for social good. It is also a prime example of the genre of charitable cookbooks that began after the Civil War and extends to today's Junior League community cookbooks.
The world's fair in Chicago was the first event of its kind that offered women a conspicuous and responsible role. A Woman's Building was designed by a woman architect, decorated with the statues and paintings of prominent women artists, and overseen by a Board of Lady Managers, comprised of 115 wives and daughters of prominent political and business leaders from every state and territory.
Carrie Shuman approached the president of this unprecedented body, Bertha Honoré Palmer, with the idea of producing a charitable cookbook, endorsed and autographed by the Lady Managers, of their prize recipes. The books would be offered to women of limited means--women who dreamed "longingly and hopelessly of the Exposition"--who could sell them to raise money to cover the expense of a visit to the fair.
This reissue of Favorite Dishes is set off by a pair of new introductions. Reid Badger discusses the phenomenon of world's fairs and the particular success and significance of the 1893 Exposition in Chicago. Bruce Kraig examines the culinary significance of the book and sets it in the context of the era's food standardization, changing cooking technology, recipe book conventions, and social practices.
To order online:
//www.press.uillinois.edu/books/catalog/89zrq7fd9780252069376.html
To order by phone:
(800) 621-2736 (USA/Canada)
(773) 702-7000 (International)
Related Titles