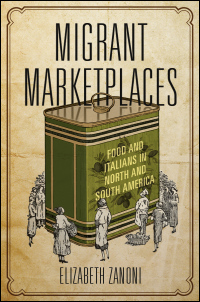 Migrant Marketplaces
Food and Italians in North and South America
Food forging identity in the Italian diaspora
Italian immigrants to the United States and Argentina hungered for the products of home. Merchants imported Italian cheese, wine, olive oil, and other commodities to meet the demand. The two sides met in migrant marketplaces—urban spaces that linked a mobile people with mobile goods in both real and imagined ways.
Elizabeth Zanoni provides a cutting-edge comparative look at Italian people and products on the move between 1880 and 1940. Concentrating on foodstuffs—a trade dominated by Italian entrepreneurs in New York and Buenos Aires—Zanoni reveals how consumption of these increasingly global imports affected consumer habits and identities and sparked changing and competing connections between gender, nationality, and ethnicity. Women in particular—by tradition tasked with buying and preparing food—had complex interactions that influenced both global trade and their community economies. Zanoni conveys the complicated and often fraught values and meanings that surrounded food, meals, and shopping.
A groundbreaking interdisciplinary study, Migrant Marketplaces offers a new perspective on the linkages between migration and trade that helped define globalization in the late nineteenth and early twentieth centuries.
---
"Enriching our understanding of how migrant contributions and experiences are shaped in historically specific ways by national and transnational policy, food, consumerism, and ideas about race and gender, Zanoni's book will resonate for many scholars and students who study these topics in the Americas and beyond." --Italian American Review

"Migrant Marketplaces: Food and Italians in North and South America is a welcomed, original contribution that goes beyond earlier studies to introduce an innovative framework of analysis that looks at migrants not only as producers but also as consumers. . . .Elizabeth Zanoni's book builds bridges between areas of inquiry that have remained mostly separated in the scholarship, most notably by deftly combining insights from migration history, history of consumer practices, food studies, and gender and ethnic studies." --American Historical Review

"Migrant Marketplaces is a solidly researched, well-written book that offers a fresh perspective on Italian food and foodways via the histories of Italian migrant communities in North and South America . . . . Zanoni's work adds a new dimension to pioneering studies on migration, gender, and food. " --H-Net Reviews

"In a work so attentive to geopolitics and commodity paths, it is refreshing to see gender at the center of the analysis. . . .Using food as a common thread to weave together political, economic, immigration, labor, and cultural histories from a global perspective, Zanoni's study in culinary globalization convincingly shows the value of food studies for the discipline of history." --Journal of American History
"Elizabeth Zanoni's innovative 'migrant marketplace' framework offers an invaluable global perspective on migrant cuisines and commodity networks through the lens of gender. Challenging scornful views of Italian foods in the Americas as inauthentic products of assimilation, she reveals them instead to be strategic and creative responses to transnational family life."—Jeffrey M. Pilcher, author of Planet Taco: A Global History of Mexican Food

"Most important among the strengths of the book is that it coins and convincingly defines the paradigm of 'migrant marketplace' to describe the material and symbolic space created by human mobility for the trade and circulation of goods and consumer imaginaries. A great and important book."--Simone Cinotto, author of The Italian American Table: Food, Family, and Community in New York City

"Clear and engaging. By focusing on the products, as opposed to the people, Zanoni highlights the ways in which the distribution and products by and for migrant communities played a pivotal role in shaping notions of national and ethnic belonging."--Linda Reeder, author of Widows in White: Migration and the Transformation of Rural Women, Sicily, 1880–1928
---
To order online:
//www.press.uillinois.edu/books/catalog/94rar4yy9780252041655.html
To order by phone:
(800) 621-2736 (USA/Canada)
(773) 702-7000 (International)
Related Titles