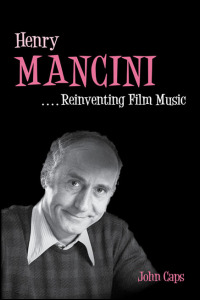 Henry Mancini
Reinventing Film Music
A superstar of film scoring, from The Pink Panther to "Moon River"
Henry Mancini, the first publicly successful and personally recognizable film composer in history, has practically become a Hollywood brand name. In his lifetime, he sold thirty million albums and won four Oscars and twenty Grammy awards. Through Mancini, mere background music in movies became part of pop culture--an expression of sophistication and wit with a modern sense of cool and a lasting lyricism that has not dated.
The first comprehensive study of Mancini's music, Henry Mancini: Reinventing Film Music describes how the composer served as a bridge between the Big Band period of World War II and the impatient eclecticism of the Baby Boomer generation, between the grand formal orchestral film scores of the past and a modern American minimalist approach. Mancini's sound seemed to capture the bright, confident, welcoming voice of the middle class's new efficient life: interested in pop songs and jazz, in movies and television, in outreach politics but also conventional stay-at-home comforts. As John Caps shows, Mancini easily combined it all in his music.
Mancini wrote his first dramatic music for a radio series in 1950. By the mid-1960s, he wielded influence in Hollywood and around the world with his iconic scores: dynamic jazz for the noirish detective TV show Peter Gunn, the sly theme from The Pink Panther, and his wistful folk song "Moon River" from Breakfast at Tiffany's. Following the evolution of Mancini's style, Caps traces the history of movie scoring in general: from the jazz-pop of the 1960s to the edgier, electro-funk harmonies of the Watergate 1970s, from the revisionist 1980s marked by New Age trends and new jazz chords to the frustrating New Hollywood of the 1990s when films were made by committees of lawyers rather than by artisans.
Through insightful close readings of key films, Caps traces Mancini's collaborations with important directors and shows how he homed in on specific dramatic or comic aspects of each film to create musical effects through clever instrumentation, eloquent melodies, and the strong narrative qualities of his scores. Accessible and engaging, this fresh view of Mancini's oeuvre and influence will delight and inform fans of film and popular music.
---
"In this lively, syncopated survey of Mancini's movie music, Caps offers a comprehensive critique of the composer's film/TV scores and hit albums."--Publishers Weekly

"A well-researched study of a musical career. . . Film by film, the book reveals how Mancini negotiated and compromised to become the composer of many a moviemaker's dreams."--Booklist

"Accessible and engaging, this fresh view of Mancini's oeuvre and influence will delight and inform fans of film and popular music."--Turner Classic Movies

"Will satisfy musically experienced readers as well as laypeople. It deserves a place in every film and popular music collection."--Library Journal

"Caps' assiduously research study of Mancini's life and career . . . is detailed and insightful. . . . It will be enjoyed both by film buffs and music lovers."--Allaboutjazz.com

"An important book, and, in many ways, a crucial one, too, it's chief value resting in Caps' articulate championing of one of the most singular compositional talents to emerge from Hollywood's film factory."--Classical Music

"[The] first thorough biographical account of film and television composer Henry Mancini. . . . Recommended."--Choice

"Caps succeeds in arguing that we should look past the pop pablum and credit Mancini with creating an original and compelling sound for films."--Wall Street Journal
"A stimulating chronicle of the life and works of film and television composer Henry Mancini. Consistently thorough and detailed, this book contains a considerable wealth of information and insight into this extremely popular composer."--James Wierzbicki, author of Film Music: A History and Elliott Carter

"A great new book on Henry Mancini's contributions to American culture. Offering extensive musical analysis of almost every film score, John Caps's insight into the Mancini oeuvre is the best I've ever seen."--Jon Burlingame, author of Sound and Vision: 60 Years of Motion Picture Soundtracks
---
To order online:
//www.press.uillinois.edu/books/catalog/95bds6gk9780252036736.html
To order by phone:
(800) 621-2736 (USA/Canada)
(773) 702-7000 (International)
Related Titles