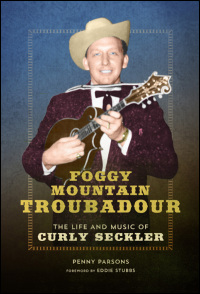 Foggy Mountain Troubadour
The Life and Music of Curly Seckler
Awards and Recognition:
• Certificate of Merit for Best Historical Research in Recorded Country Music, Association for Recorded Sound Collections Awards (ARSC), 2017
• Named Bluegrass Print/Media Person of the Year from the International Bluegrass Music Association (IBMA), 2016
The bluegrass legend's road from Carolina cotton fields to Nashville Grass
With his trademark mandolin style and unequaled tenor harmonies, Curly Seckler has carved out a seventy-seven-year career in bluegrass and country music. His foundational work in Flatt and Scruggs's Foggy Mountain Boys secured him a place in bluegrass history, while his role in The Nashville Grass made him an essential part of the music's triumphant 1970s revival.
Written in close collaboration with Mr. Seckler and those who know him, Foggy Mountain Troubadour is the first full-length biography of an American original. Penny Parsons follows a journey from North Carolina schoolhouses to the Grand Ole Opry stage and the Bluegrass Hall of Fame, from boarding houses to radio studios and traveling five to a car on two-lane roads to make the next show. Throughout, she captures the warm humor, hard choices, and vivid details of a brilliant artist's life as he criss-crosses a nation and a century making music.
---
"Those who are interested in the history of bluegrass and old country music must buy and read this wonderful book."--Bluegrass Today

"A front row seat to bluegrass history."--Charlotte News & Observer

"A must read for anyone who would like a window into the world of the American South, the rise of our country music and its early stars, and especially to gain an appreciation for an American musical treasure--Curly Seckler."--Randall Franks, Southern Style

"Foggy Mountain Troubadour offers a fascinating look at a long and storied life in music. Bluegrass is one of America's defining art forms, and Parsons uses spirited prose and anecdotes drawn from her adept research to illustrate how Seckler witnessed and helped shape it from the beginning."--Greensboro News & Record

"Anyone who has followed the life and career of Curly Seckler will have a hard time putting this book down. . . . [Penny Parsons] has done an amazing and masterful job in documenting the life of one of the great sidemen in Bluegrass."--County Sales Newsletter
"Let us shower Penny Parsons and Curly Seckler with roses for their wonderful collaboration on Foggy Mountain Troubadour. Curly Seckler is one of the most beloved and revered of all the first-generation country and bluegrass music pioneers. Ms. Parsons not only illuminates Mr. Seckler's storied life but also reports rarified accounts that offer us insight into the humanity that underscored the people, songs, live performances, recordings, and travels surrounding what is now considered to be one of the most mythical bands ever to play: Lester Flatt, Earl Scruggs, and the Foggy Mountain Boys. Penny Parsons is not only an authentic biographer, she is also a first-rate musical detective."--Marty Stuart

"Penny Parsons's well-mined research and articulate journalistic style reveal never-before-documented history that should be of interest to all fans of country and bluegrass music's golden era.  Written with Mr. Seckler's full cooperation, this educational and entertaining biography explores the compelling journey of a legendary musical statesman.  Along the way, he endured both triumph and tragedy with determination, unshakable faith, kindness, generosity, and humor. This book truly does justice to his amazing legacy."--Eddie Stubbs, WSM Grand Ole Opry announcer

"This carefully researched and richly detailed account of Seckler's life and career provides a new perspective on the work of his primary employers--Lester Flatt and Earl Scruggs. Parsons's labor of love has produced a good read and an invaluable reference."--Jay Orr, Country Music Hall of Fame and Museum
---
To order online:
//www.press.uillinois.edu/books/catalog/96egf5cm9780252040108.html
To order by phone:
(800) 621-2736 (USA/Canada)
(773) 702-7000 (International)
Related Titles