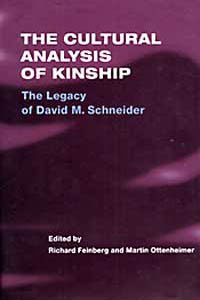 The Cultural Analysis of Kinship
The Legacy of David M. Schneider
In the mid-1970s, David M. Schneider rocked the anthropological world with his announcement that kinship did not exist in any culture known to humankind. This volume provides a critical assessment of Schneider's ideas, focusing particularly on his contributions to kinship studies and the implications of his work for cultural relativism.
Schneider's deconstruction of kinship as a cultural system sounded the death knell for a certain kind of kinship study. At the same time, it laid the groundwork for the re-emergence of kinship studies as a centerpiece of anthropological theory and practice. Now a mainstay of cultural studies, Schneider's conception of cultural relativism revolutionized thinking about kinship, family, gender, and culture. For feminist anthropologists, his ideas freed kinship from the limitations of biology, providing a context for establishing gender as a cultural construct. Today, his work bears on high-profile issues such as gay and lesbian partners and parents, surrogate motherhood, and new reproductive technologies.
Contributors to The Cultural Analysis of Kinship appraise Schneider's contributions and his place in anthropological history, particularly in the development of anthropological theory. Situating Schneider's work and influence in relation to major controversies in the history of anthropology and of kinship studies, they examine his important insights and their limitations, consider where his approach might lead, and offer alternative paradigms.
Inspiring many with his keenly critical mind and willingness to flout convention, discomfiting others with his mercurial temperament, David Schneider left an ineradicable mark on his field. These frank observations on the man and his ideas offer a revealing glimpse of one of modern anthropology's most complex and paradoxical figures.
---
"David M. Schneider was one of the most influential and important figures in post-World War II American anthropology, and a critical evaluation of his scholarship is both timely and welcome. This stimulating volume will be of genuine interest to academic anthropologists the world over." -- Mac Marshall, author of American Anthropology in Micronesia: An Assessment
To order online:
//www.press.uillinois.edu/books/catalog/96gyq7rm9780252026737.html
To order by phone:
(800) 621-2736 (USA/Canada)
(773) 702-7000 (International)
Related Titles