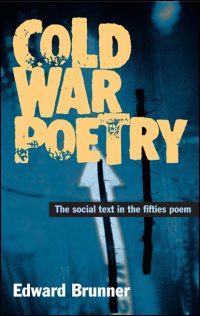 Cold War Poetry
A probing re-examination of many of the "mainstream" and almost forgotten poets of the 1950s
Mainstream American poetry of the 1950s has long been dismissed as deliberately indifferent to its cultural circumstances. In this penetrating study, Edward Brunner breaks the placid surface of the hollow decade to reveal a poetry sharply responsive to issues of its time.
Cold War Poetry considers the fifties poem as part of a dual cultural project: as proof of the competency of the newly professionalized poet and as a user-friendly way of initiating a newly educated, upwardly mobile postwar audience into high culture. Brunner revisits Richard Wilbur, Randall Jarrell, and other acknowledged leaders of the period as well as neglected writers such as Rosalie Moore, V. R. Lang, Katherine Hoskins, Melvin B. Tolson, and Hyam Plutzik. He also examines the one-sided authority of the (male-dominated) book review process, the ostracizing of female and minority poets, poetic fads such as the ubiquitous sestina, and the power of the classroom anthology to establish criteria for reading.
Attributing the gradual change in poetic style during the 1950s to the slow collapse of the authority of the state, Brunner shows how a secretive, anxious poetics developed in the shadow of a disabled government. He recontextualizes the much-maligned domestic verse of the 1950s, reading its shift toward the private sphere and the recurrent image of the child as a reflection of the powerlessness of the post-nuclear citizen. Through a close examination of poetry written about the Bomb, he delineates how poets registered their growing sense of cosmic disorder in coded language, resorting to subterfuge to continue their critique in the face of sanctions levied against those who questioned government policies.
Brilliantly decoding the politics embedded in the poetry of an ostensibly apolitical time, Cold War Poetry provides a powerful rereading of a pivotal decade.
---
"Erudite and comprehensive. . . . Commendable for its revisionist perspective and its wealth of scholarly information. "--Choice

"There are many close, instructive readings of poems (and careers). Altogether, a remarkable integration of social contexts and poetic details."--Virginia Quarterly Review
"Cold War Poetry changes our understanding not just of the fifties but of how that decade leaves its mark, however effaced, on everything after in contemporary poetics."--Walter Kalaidjian, author of American Culture between the Wars: Revisionary Modernism and Postmodern Critique

"This is quite simply the best book ever written on American poetry of the 1950s. Brunner's claim that 1950s mythological and domestic poetry displays displaced political anxiety is both new and persuasive. His treatment of minority and women's writing gives us our first full account of the period."--Cary Nelson, editor of Anthology of Modern American Poetry
To order online:
//www.press.uillinois.edu/books/catalog/96hfd8mh9780252072178.html
To order by phone:
(800) 621-2736 (USA/Canada)
(773) 702-7000 (International)
Related Titles