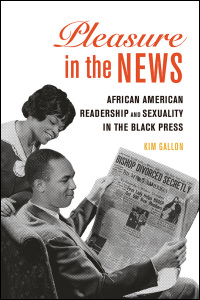 Pleasure in the News
African American Readership and Sexuality in the Black Press
How sex and sensation fueled the power of the black press
Critics often chastised the twentieth-century black press for focusing on sex and scandal rather than African American achievements. In Pleasure in the News, Kim Gallon takes an opposing stance—arguing that African American newspapers fostered black sexual expression, agency, and identity.
Gallon discusses how journalists and editors created black sexual publics that offered everyday African Americans opportunities to discuss sexual topics that exposed class and gender tensions. While black churches and black schools often encouraged sexual restraint, the black press printed stories that complicated notions about respectability. Sensational coverage also expanded African American women's sexual consciousness and demonstrated the tenuous position of female impersonators, black gay men, and black lesbians in early twentieth-century African American urban communities.
Informative and empowering, Pleasure in the News redefines the significance of the black press in African American history and advancement while shedding light on the important cultural and social role that sexuality played in the power of the black press.
"Blending unprecedented research into the African American press, and the journalists and editors who put the papers out, with a careful synthesis of the existing scholarship, Pleasure in the News shows how opinions about sex behavior impacted reading publics over several decades of profound change in the black experience. Kim Gallon's systematic analysis of an almost endless news cycle of marital infidelities, scandalous divorces, celebrity drag queens, and low-down queers of all kinds provides a fresh angle on what are now classic questions in the field. How did respectability impact performativity, how did opinion makers command and defer to sexual consumers, and what did all of this mean for the experience of black desire within the marginal spaces of the modern metropolis?"--Kevin Mumford, author of Not Straight, Not White: Black Gay Men from the March on Washington to the AIDS Crisis
---
To order online:
//www.press.uillinois.edu/books/catalog/97hpm3cb9780252043222.html
To order by phone:
(800) 621-2736 (USA/Canada)
(773) 702-7000 (International)
Related Titles