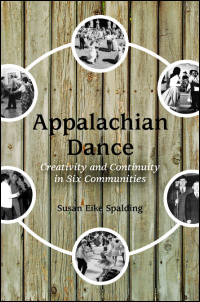 Appalachian Dance
Creativity and Continuity in Six Communities
Awards and Recognition:
• Weatherford Award (Nonfiction), Berea College and the Appalachian Studies Association, 2014
An engaging look at how clogging and flatfooting evolved into vital parts of Appalachia's dance culture
In Appalachian Dance: Creativity and Continuity in Six Communities, Susan Eike Spalding brings to bear twenty-five years' worth of rich interviews with black and white Virginians, Tennesseeans, and Kentuckians to explore the evolution and social uses of dance in each region.
Spalding analyzes how issues as disparate as industrialization around coal, plantation culture, race relations, and the 1970s folk revival influenced freestyle clogging and other dance forms like square dancing in profound ways. She reveals how African Americans and Native Americans, as well as European immigrants drawn to the timber mills and coal fields, brought movement styles that added to local dance vocabularies. Placing each community in its sociopolitical and economic context, Spalding analyzes how the formal and stylistic nuances found in Appalachian dance reflect the beliefs, shared understandings, and experiences of the community at large, paying particular attention to both regional and racial diversity.
Written in clear and accessible prose, Appalachian Dance is a lively addition to the literature and a bold contribution to scholarship concerned with the meaning of movement and the ever-changing nature of tradition.
---
"In Appalachian Dance: Creativity and Continuity in Six Communities, Susan Eike Spalding draws the reader into a sorely needed conversation about dance scholarship and Appalachian studies, fields that Spalding argues rarely speak to one another. . . . Appalachian Dance is a useful text, merging dance and Appalachian studies, highlighting cultural diversity, and providing a unique lens through which to understand Appalachian history."--Register of the Kentucky Historical Society

"While each of these six community profiles can stand on its own, together they reveal the diversity as well as the commonalities and continually evolving nature of the dance traditions in rural Appalachia. . . . Spalding's study, however, does more than simply describe the dance traditions of these communities. It reveals much about the broader history and culture of these rural Appalachian communities. I highly recommend Susan Spalding's Appalachian Dance, not only to those with an interest in traditional dance, but also to anyone with an interest in the traditional culture of Appalachia."--The Old-Time Herald

"This is one of those rare scholarly works that is both readable and fascinating to read. For anyone interested in the history of folk dance in the twentieth century, this book is a must-read."--CDSS (Country Dance and Song Society) News

"Appalachian Dance is a well-researched and elegantly written academic work that will appeal to a broad audience of scholars as well as the general public. Spalding presents a complex picture of Appalachia through dance that productively complicates myths of isolation, poverty, and homogeneity often associated with this area. This is a compelling book."--Journal of Appalachian Studies

"Spalding gives us a wealth of information, not only about the role of dance in six communities (in Tennessee, Virginia, and Kentucky) but also about how history, culture, geography, industrialization, urbanization, and even desegregation influenced its survival and/or revival. . . . Spalding's book is clearly organized and eminently readable."--The Journal of American History

"Spalding provides an illuminating study of the social issues as well as the evolution of the dancing."--Western Folklore

"Appalachian Dance is an important contribution to the field of folklore, dance studies, and Appalachian studies."--Journal of American Folklore
"An exceptionally full account of the Appalachian communities in which dance plays a role. The historical documentation is thorough and the ethnographic work sensitively used to support Spalding's argument. Spalding has a lively writing style and demonstrates a warmth of engagement that is very appealing. Readers will learn a great deal about a region that is still widely misunderstood--and they will find themselves wanting to kick up their heels."--Erika Brady, author of A Spiral Way: How the Phonograph Changed Ethnography

"Spalding's ability to portray the cultural diversity of various geographical areas within Appalachia and the differing dance traditions that emerged in those locations is outstanding. This book not only makes a major contribution to understanding the dance traditions of Appalachia, but it shows in turn what a study of dance traditions reveals about Appalachian communities."--Elizabeth Fine, author of Soulstepping: African American Step Shows
---
To order online:
//www.press.uillinois.edu/books/catalog/97nex7ph9780252038549.html
To order by phone:
(800) 621-2736 (USA/Canada)
(773) 702-7000 (International)
Related Titles