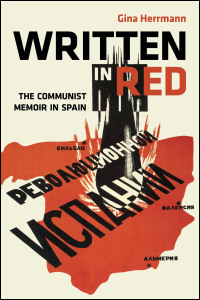 Written in Red
The Communist Memoir in Spain
Awards and Recognition:
A Choice Outstanding Academic Title, 2011.
The first major study of the profound impact of international communist politics and culture on Spanish letters
The intense struggle of political ideals that blazed through early-twentieth-century Europe reached its climax in Spain, where Spanish and foreign revolutionaries, liberals, and reactionaries found themselves caught in a ferocious civil war. For many intellectuals who fought and chronicled the conflict, the war became a political test case that either strengthened their political convictions and commitments or caused them to question their own and others' service to a particular cause.
In Written in Red: The Communist Memoir in Spain, Gina Herrmann looks at the memoirs of six Spanish Communist writers to reveal the fascinating and often painful evolution of their politics from the beginning of the war through their long years of exile. While Spanish Communist authors initially shaped their identities and autobiographies along the lines of Soviet models, Herrmann shows how, with the recognition of Stalinism's betrayal of the Communist ideal, the writers increasingly came to experience those models as straitjackets unfit to contain the stories of their rich and difficult lives.
The six writers studied here--Dolores Ibárruri, María Teresa Léon, Rafael Alberti, Jorge Semprún, and Teresa and Tomás Pàmies--devoted their lives to the cause of the revolution. Though they have told their separate stories, this book is the first to gather, compare, and interpret them within their historical and intellectual context and from a comparative perspective that takes into account recent developments in Soviet studies.
---
"Spanning several decades of leftist literary production, this innovative, thought-provoking book underscores the cultural impact of, the Spanish Civil War, the International Brigades, Stalinism, the Czech purge, Rotspanier, the Marquis, and the Holocaust. . . . Highly recommended."--Choice

"A must-read for anyone interested in twentieth-century intellectual history."--Bulletin of Spanish Studies

"A brilliant analysis of the relationship between political commitment and activism, personal relations and affect."--The Volunteer

"Herrmann is an accomplished writer who brings together scholars from many disciplines and leaves us with engaging questions about the relationship between literature and politics."--Hispania
"Thoroughly researched and elegantly written, Written in Red brings a sophisticated theoretical grounding and broad intellectual and historical contextualization to the analysis of the autobiographical writings of six major Spanish writers and public figures of the Civil War and postwar periods. It promotes a long-overdue reckoning of the role of Spain and the Spanish left in one of the central historical dramas of the twentieth century: the rise and fall of communist ideology and practice across Europe and Asia."--Kathleen Vernon, editor of The Spanish Civil War and the Visual Arts

"A tour-de-force, impressive in its novel engagement with the issue of the Spanish Communist Party's influence on writing in the twentieth and twenty-first centuries. Written in Red is the first book dealing head on with party politics and commitment as an essential dimension to the writing itself."--Michael Ugarte, author of Shifting Ground: Spanish Civil War Exile Literature
---
To order online:
//www.press.uillinois.edu/books/catalog/97shq4hg9780252034695.html
To order by phone:
(800) 621-2736 (USA/Canada)
(773) 702-7000 (International)
Related Titles