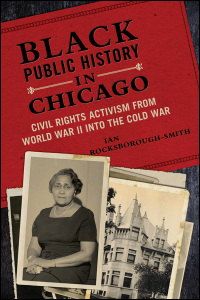 Black Public History in Chicago
Civil Rights Activism from World War II into the Cold War
Awards and Recognition:
• Superior Achievement Award, Illinois State Historical Society, 2019
How black public historians fought for civil rights in the Windy City
In civil-rights-era Chicago, a dedicated group of black activists, educators, and organizations employed black public history as more than cultural activism. Their work and vision energized a movement that promoted political progress in the crucial time between World War II and the onset of the Cold War.
Ian Rocksborough-Smith's meticulous research and adept storytelling provide the first in-depth look at how these committed individuals leveraged Chicago's black public history. Their goal: to engage with the struggle for racial equality. Rocksborough-Smith shows teachers working to advance curriculum reform in public schools, while well-known activists Margaret and Charles Burroughs pushed for greater recognition of black history by founding the DuSable Museum of African American History. Organizations like the Afro-American Heritage Association, meanwhile, used black public history work to connect radical politics and nationalism. Together, these people and their projects advanced important ideas about race, citizenship, education, and intellectual labor that paralleled the shifting terrain of mid-twentieth-century civil rights.
---
"Rocksborough-Smith offers a concise scholarly monograph on Black Chicago public history's tangled relationship with the left and utilizes that conflicting relationship to examine politics in our present and future."--Black Perspectives

"This book helps to celebrate those who worked to keep alive the memory of an all-too-often buried past." --The Progressive

"Black Public History will appeal to all students of African American history, particularly cultural history, and is a valuable contribution to the scholarship of Chicago's expanding black past." --History: Reviews of New Books

"Black Public History in Chicago is a worthwhile read and greatly contributes to the understudied history of African American public activism during the pre-civil rights movement years." --Journal of American History

"Black Public History in Chicago spans decades and is complemented and supported by the detailed efforts of the unseen and often mentioned contributors of each era. . . . Rocksborough-Smith has produced an excellent work that those with interest in African American history of Chicago history will enjoy." --Journal of the Illinois State Historical Society
"Scholars are starting to discuss in more detail how African American activists for Civil Rights were stifled under this side of the 'iron curtain' during the Cold War. However, very few have discussed the innovative ways that Black visionaries turned to public history as a broad canvas for rethinking the boundaries of community belonging and national citizenship in the face of political repression. Ian Rocksborough-Smith sheds light on a powerful core of Chicago-based culture workers who expanded the battlefront for Black freedom from the picket line and street rally to the library, the museum hall, and the classroom, using public displays of the past to imagine a different future. Black Public History in Chicago is an amazing project of both recovery and redemption."--Davarian L. Baldwin, author of Chicago's New Negroes: Modernity, the Great Migration, and Black Urban Life

"In this remarkable book, Ian Rocksborough-Smith examines the network of librarians, writers, teachers, and others who built an African American usable past that could advance their visions of racial liberation in mid-twentieth-century Chicago. Amid repression of all kinds, these unsung activists and artists set out to make history matter beyond the academy and mainstream museums. They devoted their lives to building independent knowledge-producing institutions through school curriculum, public rituals and commemorations, and ultimately the DuSable Museum. Like his protagonists, Rocksborough-Smith resists sanitized narratives and makes public history accessible, revealing how these cultural workers bridged generations and fused interracial and nationalist ideologies. Readers interested in the Black Chicago Renaissance and the generations of the Black Freedom Struggle, Cold War scholars, and especially public historians of all stripes need to read this book. Then and now, African American public history matters as a key source of knowledge as activism to combat poverty, racism, and xenophobia in the American city."--Erik S. Gellman, author of Death Blow to Jim Crow: The National Negro Congress and the Rise of Militant Civil Rights
---
To order online:
//www.press.uillinois.edu/books/catalog/98cwk4ry9780252041662.html
To order by phone:
(800) 621-2736 (USA/Canada)
(773) 702-7000 (International)
Related Titles