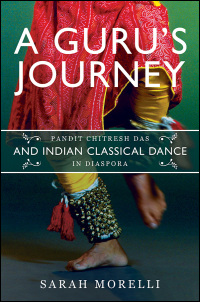 A Guru's Journey
Pandit Chitresh Das and Indian Classical Dance in Diaspora
The work and art of a dance master in America
An important modern exponent of Asian dance, Pandit Chitresh Das brought kathak to the United States in 1970. The North Indian classical dance has since become an important art form within the greater Indian diaspora. Yet its adoption outside of India raises questions about what happens to artistic practices when we separate them from their broader cultural contexts.
A Guru's Journey provides an ethnographic study of the dance form in the San Francisco Bay Area community formed by Das. Sarah Morelli, a kathak dancer and one of Das's former students, investigates topics in teaching, learning, and performance that developed around Das during his time in the United States. In modifying kathak's form and teaching for Western students, Das negotiates questions of Indianness and non-Indianness, gender, identity, and race. Morelli lays out these discussions for readers with the goal of deepening their knowledge of kathak aesthetics, technique, and theory. She also shares the intricacies of footwork, facial expression in storytelling, and other aspects of kathak while tying them to the cultural issues that inform the dance.
---
"Morelli's book is deeply researched and a significant addition to dance studies. . . . Highly recommended." --Choice
"Recounting a story that extends over the course of decades and across the globe, A Guru's Journey charts the impact of mobility on kathak dance as well as the embodied impact of this rapidly changing dance style across multiple dimensions of time and space. Morelli has crafted a narrative filled with powerful historical, biographical, and musical insights while also capturing the human dimensions of musical performance and transmission. An exciting contribution to the ethnomusicological literature and a striking study of issues surrounding migration, ethnicity, and gender."--Kay Kaufman Shelemay, author of Soundscapes: Exploring Music in a Changing World, Third Edition

"Novel, original, and impressive. A story of the dance and one of its most important personalities, and an important book for all interested in the diaspora of Indian and Eastern arts."--George E. Ruckert, author of Music in North India: Experiencing Music, Expressing Culture
A supplemental companion website with videos is now available for readers of A Guru's Journey.
Publication of this book is supported by grants from the University of Denver's Lamont School of Music and the AHSS Book Publication Support Fund and from the AMS 75 PAYS Endowment of the American Musicological Society, funded in part by the National Endowment for the Humanities and the Andrew W. Mellon Foundation.
---
To order online:
//www.press.uillinois.edu/books/catalog/99cnk8ew9780252042867.html
To order by phone:
(800) 621-2736 (USA/Canada)
(773) 702-7000 (International)
Related Titles