Page:
1
2
3
4
5
6
7
Sport and Society

Acquiring Editor: Danny Nasset
Series Editors: Aram Goudsouzian and Jaime Schultz
Founding Editors: Benjamin Rader and Randy Roberts

The Sport and Society series publishes scholarly books as well as short books on individual sports directed to the student and general reader. These include new works dealing with sports in many academic disciplines as well as paperback reissues of scholarly and popular books.

See our featured title flyer here.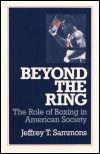 The Role of Boxing in American Society
Author: Jeffrey T. Sammons
Pub Date: 1990

learn more...


Author: Richard D. Mandell
Pub Date: 1987

learn more...


Page:
1
2
3
4
5
6
7