Women, Gender, and Technology



This series is closed.



Author: Edited by Linda L. Layne, Sharra L. Vostral, and Kate Boyer
Pub Date: June 2010

A multi-voiced debate on technologies designed to improve women's lives learn more...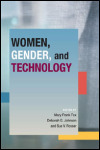 Author: Edited by Mary Frank Fox, Deborah G. Johnson, and Sue V. Rosser
Pub Date: 2006

An interdisciplinary investigation of the co-creation of gender and technology learn more...