Page:
1
2
Latinos in Chicago and the Midwest

Acquiring Editor: Dawn Durante
Series Editor: Frances R. Aparicio, Omar Valerio-Jiménez, and Sujey Vega

This series documents the histories, challenges, and contributions of Latinos to Chicago and the Midwest. It promotes an understanding of regional and historical differences in Latino communities and of the ways in which Latinos in Chicago and throughout the Midwest construct their own sense of Latinidad and cultural difference. It offers new conceptual frameworks for the study of interlatino dynamics in this understudied region as well as comparative studies with other regions in the United States and in transnational relations with Latin America. The series editors seek topics that shed new light on the issues that impact Latino/a lives in the Midwest. They welcome inquiries and questions from scholars, journalists, writers, and artists, envisioning a series of books that are not exclusively academic but from a wide array of disciplines and discourses.

See our featured title flyer here.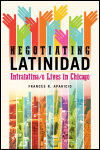 Intralatina/o Lives in Chicago
Author: Frances R. Aparicio
Pub Date: October 2019

One family, multiple identities, and today's changing Latina/o world learn more...


Reflexiones de un inmigrante indocumentado
Author: José Ángel N.
Pub Date: May 2019

Notas del indocumentado subterráneo, ahora disponible en una edición en español learn more...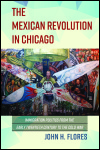 Immigration Politics from the Early Twentieth Century to the Cold War
Author: John H. Flores
Pub Date: April 2018

How a revolutionary generation shaped a landmark Mexican American community learn more...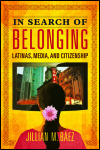 Latinas, Media, and Citizenship
Author: Jillian M. Báez
Pub Date: March 2018

What Latinas seek, and see, of themselves in the media learn more...


Author: Edited by Omar Valerio-Jiménez, Santiago Vaquera-Vásquez, and Claire F. Fox Afterword by Frances R. Aparicio
Pub Date: July 2017

The Latina/o experience in a changing Midwest learn more...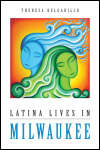 Author: Theresa Delgadillo
Pub Date: November 2015

The voices of Latina women leaders in a unique moment and place in the history of the Midwest learn more...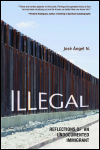 Reflections of an Undocumented Immigrant
Author: José Ángel N.
Pub Date: February 2014

The valiant memoir of a man living the "good" life--illegally learn more...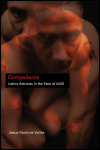 Latino Activists in the Face of AIDS
Author: Jesus Ramirez-Valles
Pub Date: November 2011

Exploring Latino GBT involvement in the fight against AIDS learn more...


The Cultural Turns of U.S. Puerto Ricans
Author: Marc Zimmerman
Pub Date: November 2011

A visual and textual journey through the cultural contributions of Puerto Rican artists in the United States learn more...


Narratives of a Movement from Latino Chicago
Author: Leonard G. Ramírez with Yenelli Flores, María Gamboa, Isaura González, Victoria Pérez, Magda Ramírez-Castañeda, and Cristina Vital
Pub Date: October 2011

Dynamic stories from the Chicago Chicano movement learn more...


Page:
1
2