Page:
1
2
3
4
5
6
History, Military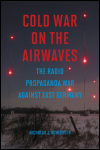 The Radio Propaganda War against East Germany
Author: Nicholas J. Schlosser
Pub Date: November 2015

Battling for hearts and minds across the Iron Curtain learn more...


Enduring the South African War
Author: John Boje
Pub Date: November 2015

Everyday life under martial law during the Anglo-Boer War learn more...


Italy's Occupation of France
Author: Emanuele Sica
Pub Date: December 2015

A vivid tableau of how occupiers and the occupied clashed and collaborated during World War Two learn more...


Gender and Race in the Army Nurse Corps
Author: Charissa J. Threat
Pub Date: April 2015

Fighting for the right to a career in military nursing learn more...


The U.S. Chemical Warfare Service in War and Peace
Author: Thomas I. Faith
Pub Date: October 2014

A timely history of the conflict over the American use of chemical weapons during and after WWI learn more...


Letters across the Borders of Nazi Germany
Author: Edited by Hedda Kalshoven
Pub Date: June 2014

How a family with members in Germany and in occupied Netherlands responded to the Nazi regime, World War II, and its aftermath learn more...


The Original Manuscript Edition
Author: Gideon Welles Edited by William E. Gienapp and Erica L. Gienapp
Pub Date: September 2014

The definitive edition of an essential Civil War document learn more...


Author: Edited by Peter N. Stearns
Pub Date: December 2013

Twentieth-century military reduction, its causes and effects, and a potential way forward learn more...


Author: David Work
Pub Date: Cloth: 2009; Paper: February 2012

Boldly reassessing the contested legacy of Lincoln's military appointments learn more...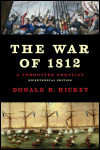 Author: Donald R. Hickey
Pub Date: February 2012

Updated and expanded for the Bicentennial of the War of 1812 learn more...


Page:
1
2
3
4
5
6