Records & Cassettes

Author: N. Lee Orr
Pub Date: July 2008

A popular Victorian composer of organ and choral music learn more...


The Singing and Praying Bands
Author: Jonathan C. David, with photographs by Richard Holloway
Pub Date: July 2007

A forgotten and beautiful African American folk tradition re-examined learn more...


The Story of the American Cantorate
Author: Mark Slobin
Pub Date: 2002

The evolution of the cantor in the United States learn more...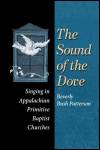 Singing in Appalachian Primitive Baptist Churches
Author: Beverly Bush Patterson
Pub Date: 2001

Illuminating the music of and singers within a sacred folksong tradition learn more...



The Musical Experience of Five Shoshone Women
Author: Judith Vander
Pub Date: 1996

The songs and life stories of Shoshone women in Wyoming learn more...