Page:
1
2
3
4
5
6
7
8
Literary Studies
From the New Negro Renaissance to the Civil Rights Movement
Author: Edited and with an Introduction by Judith L. Stephens
Pub Date: March 2006

Recovering the stage work of one of America's finest black female writers learn more...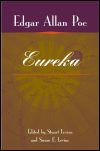 Author: Edgar Allan Poe
Pub Date: October 2004

The premier scholarly annotated edition of Poe's Eureka learn more...


The First Century of Afro-American Autobiography, 1760-1865
Author: William L. Andrews
Pub Date: 1988

learn more...


Page:
1
2
3
4
5
6
7
8