Browse by Author - N
A Cultural History of the Black Sox Scandal
Author: Daniel A. Nathan
Pub Date: September 2005

Understanding narratives of baseball's darkest hour learn more...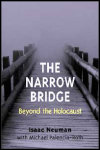 Author: Isaac Neuman, with Michael Palencia-Roth
Pub Date: April 2000

Even as the horrors of the Holocaust took Isaac Neuman to the darkest depths of human grief and depravity, he clung ever more stubbornly to the light of his Faith--an amazing spiritual journey that sustained him beyond the war, through the March at Selma and into arenas of social justice to this day. learn more...