Topics in the Digital Humanities

Acquiring Editor: Alison K. Syring
Series Editor: Susan Schreibman

Humanities computing is undergoing a redefinition of basic principles by a continuous influx of new, vibrant, and diverse communities or practitioners within and well beyond the halls of academe. These practitioners recognize the value computers add to their work, that the computer itself remains an instrument subject to continual innovation, and that competition within many disciplines requires scholars to become and remain current with what computers can do. Topics in the Digital Humanities invites manuscripts that will advance and deepen knowledge and activity in this new and innovative field.





Transformations in the Digital Age
Author: Adam Crymble
Pub Date: April 2021

Charting the evolution of practicing digital history learn more...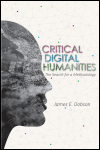 The Search for a Methodology
Author: James E. Dobson
Pub Date: March 2019

Critical theory, computational science, and a new path of humanistic inquiry learn more...


Tools and Methods for Nineteenth-Century American Literature
Author: Edited by Jennifer Travis and Jessica DeSpain
Pub Date: November 2018

How to use and build digital projects and how to incorporate into already established curriculum learn more...


Author: Edited by Daniel Apollon, Claire Bélisle, and Philippe Régnier
Pub Date: Cloth: 2014; Paper: February 2017

Exploring the interweaving of traditional and digital textual scholarship learn more...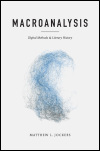 Digital Methods and Literary History
Author: Matthew L. Jockers
Pub Date: 2013

Exploring the potential of large-scale digital literary analysis learn more...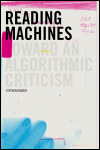 Toward an Algorithmic Criticism
Author: Stephen Ramsay
Pub Date: December 2011

Rethinking digital literary criticism by situating computational work within the broader context of the humanities learn more...