Women in Print

Acquiring Editor: Alison K. Syring
Series Editor Valerie Hotchkiss

A peer-reviewed e-book series from the University of Illinois Press, Women in Print explores the impact of the imprint in its original form and offers fresh insights into the reception history of books written by women. Through digital facsimiles, readers experience a rare book as it first appeared, while distinguished scholars offer accessible introductions and commentary.

These volumes are provided to readers at no cost. Each includes all the advantages of an E-book: searchable transcriptions and translations; high-definition images; links to further reading and bibliographies; and special embedded media that takes readers on virtual visits to the vault with rare book specialists. Women in Print volumes download to a wide variety of platforms and online readers.

Women in Print is a collaborative effort of the University of Illinois at Urbana-Champaign Rare Book & Manuscript Library and the University of Illinois Press, with contributions from the University of Illinois at Urbana-Champaign School of Art + Design, the National Center for Supercomputing Applications, and the editors of each text.

Visit the open-access Website here.



Author: Mary Astell

A facsimile edition of an overlooked feminist touchstone, with a new introduction learn more...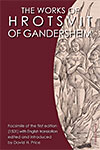 Author: Hrotsvit of Gandersheim

Drama, poetry, and epic verse from the medieval woman who revived playwriting in the West learn more...