Hispanisms


Hispanisms presents innovative studies of the literatures and cultures of the Hispanic world. This series offers a forum for various critical and disciplinary approaches; queries and proposals for manuscripts and translations are welcome.

This series is closed.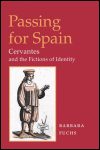 E-book Sale: $19.95
Cervantes and the Fictions of Identity
Author: Barbara Fuchs
Pub Date: January 2003

Cervantes challenges the state's attempt to categorize its subjects learn more...