Popular Culture and Politics in Asia Pacific


The field of Asian Studies has witnessed a rapid growth of interest in various forms of popular culture and their complex relations with modernity, nationalism, urbanism, and transnational/transregional cultural formations. This growth is fueled in part by the increasing prominence of Asian popular culture in the global marketplace (e.g. video games and comic books from Japan, Hong Kong cinema, Asian marital arts, etc.) New scholarship, employing a variety of approaches ranging from cultural studies and gender studies to national and group identity issues, adds nuances to and sheds light on our understanding of the complexity of life and transnational cultural formation in a rapidly changing Asia. This series will select and publish works which cross regional, national, and international boundaries.

This series is closed.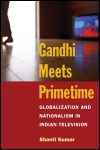 Globalization and Nationalism in Indian Television
Author: Shanti Kumar
Pub Date: January 2006

Charting the transformations of Indian popular culture through a politico-cultural analysis of its electronic media learn more...