The Dreiser Edition


Theodore Dreiser (1871-1945) is universally recognized as one of the principal figures of twentieth-century American literature. His centrality stems both from the permanence of his best fiction and from his preeminent role in American cultural life during the first half of the twentieth century. His stature as the leading American literary figure of the early twentieth century, as well as his activist stance toward the major literary, social, and political issues of his day, has made him a focal point in efforts to understand the vital and turbulent period in which he flourished. Serving all scholars of the period, The Dreiser Edition publishes scholarly editions of the writings and other primary documents of Theodore Dreiser.

This series is closed.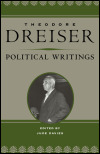 Author: Theodore Dreiser
Pub Date: February 2011

The first published collection of the esteemed novelist's prolific political works learn more...