Classics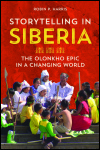 The Olonkho Epic in a Changing World
Author: Robin P. Harris
Pub Date: Cloth: November 2017; Paper: September 2020

How the Sakha revived a near-extinct art form learn more...


Ancient Sources, Translations, and Modern Medical Analyses
Author: Translated and with Commentary by JoAnn Scurlock and Burton R. Andersen
Pub Date: August 2005

The only comprehensive analysis of the earliest recorded medical literature learn more...


Author: Roger D. Woodard
Pub Date: September 2005

Explaining the survival of Proto-Indo-European cultic spaces in Vedic India and ancient Rome learn more...


Author: James S. Hans
Pub Date: February 2002

learn more...