1
2
3
4
5
6
7
8
9
10
Next
History, Am.: 19th C.

The Essential Guide to Illinois Historic Sites
Author: Charles Titus
Pub Date: February 2021

Discovering Illinois through twenty of the state's most important places learn more...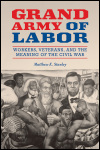 Workers, Veterans, and the Meaning of the Civil War
Author: Matthew E. Stanley
Pub Date: April 2021

Enlisting memory in a new fight for freedom learn more...



From the Spiritual to the Harlem Renaissance
Author: Jean E. Snyder
Pub Date: Cloth: March 2016; Paper: August 2021

Reclaiming the unique life and soaring art of an essential American composer learn more...


Disability, Race, and Gender in Antebellum America
Author: Jenifer L. Barclay
Pub Date: April 2021

Exploring the disability history of slavery learn more...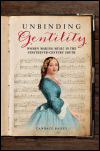 Women Making Music in the Nineteenth-Century South
Author: Candace Bailey
Pub Date: April 2021

Hearing southern women in the pauses of history learn more...


Miners, Capitalism, and Organizing in the Gilded Age
Author: Dana M. Caldemeyer
Pub Date: January 2021

The self-interest behind joining, or not joining, a union learn more...


Past, Present, and Future
Author: Frank Stricker
Pub Date: June 2020

Lies your economists told you—and the truths that can change the nation learn more...


The Essential Speeches and Sermons
Author: Lucretia Mott Edited by Christopher Densmore, Carol Faulkner, Nancy Hewitt, and Beverly Wilson Palmer
Pub Date: Cloth: April 2017; Paper: September 2020

An invaluable collection of the iconic reformer's words and works learn more...


Author: Kim E. Nielsen
Pub Date: June 2020

A female physician battling oppression and the law in the nineteenth-century Midwest learn more...



Democratic Hierarchy and the Mormon Priesthood
Author: Michael Hubbard MacKay
Pub Date: April 2020

Understanding how a prophet's voice shaped early Mormonism learn more...


1
2
3
4
5
6
7
8
9
10
Next