Page:
1
2
3
4
Browse by Author - L

Author: Edited by Barbara J. Love
Pub Date: October 2006

Documenting key feminists who ignited the second wave women's movement learn more...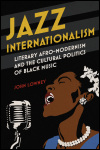 Literary Afro-Modernism and the Cultural Politics of Black Music
Author: John Lowney
Pub Date: October 2017

Hearing jazz in Afro-modernist literature learn more...


The March on Washington Movement, 1941-1946
Author: David Lucander
Pub Date: September 2014

The history of an overlooked civil rights group fighting for justice during World War II learn more...


Collage as a Critical Practice in Pedagogy
Author: Edited by Jorge Lucero
Pub Date: November 2016

Teaching through the most democratic of artistic techniques learn more...


Page:
1
2
3
4