Page:
1
2
3
4
5
6
7
8
Music in American Life

Acquiring Editor: Laurie Matheson


Music in American Life is a longstanding series that embodies the twin goals of documenting the place of music in American culture and the cultural life that gives rise to particular musical forms. Encompassing the broadest range of music, from classical through all forms of American vernacular music, the series welcomes a variety of approaches to the topic of music in American life, including monographs, biographies, memoirs, reference books, readers, and edited collections.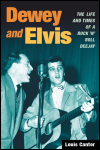 The Life and Times of a Rock 'n' Roll Deejay
Author: Louis Cantor
Pub Date: 2005

The pioneering deejay who brought rock 'n' roll to Memphis learn more...


Page:
1
2
3
4
5
6
7
8