Page:
1
2
3
4
5
6
7
Literary Studies
Author: Teresa L. Ebert
Pub Date: September 2009

A bold and compelling remapping of contemporary cultural critique learn more...


Author: Lisa Woolfork
Pub Date: December 2008

A unique study of slavery reenactments and performances in African American literature and culture learn more...


Author: Barbara Christian
Pub Date: October 2007

A passionate and celebrated pioneer in her own words learn more...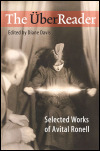 Selected Works of Avital Ronell
Author: Edited by Diane Davis
Pub Date: December 2007

A sampling of "the best of Ronell," focusing on her current essays and talks learn more...


An Introduction to Autopoetics
Author: Ira Livingston
Pub Date: November 2006

A shift in how we understand the world and ourselves, further displacing the nature/culture divide once so definitive for modernity learn more...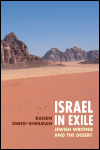 Jewish Writing and the Desert
Author: Ranen Omer-Sherman
Pub Date: February 2006

The idea of the desert as catalyst for compelling questions about justice and community in Jewish writing learn more...


Page:
1
2
3
4
5
6
7