Page:
1
2
3
4
5
6
Sports
High School Basketball in Illinois
Author: Taylor H. A. Bell
Pub Date: October 2004

The first comprehensive history of high school basketball in Illinois learn more...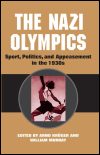 Sport, Politics, and Appeasement in the 1930s
Author: Edited by Arnd Krüger and William Murray
Pub Date: September 2003

The preparation and presentation of the Nazi Olympics as seen by the host country and by the main competing countries. learn more...


Page:
1
2
3
4
5
6