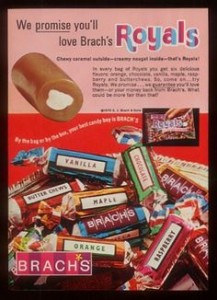 Whatever industry group planted National Chocolate Day on October 28 did a great job. There's no better positioning than a few days before Halloween, a holiday dedicated to candy of all kinds—but one where, let's be honest, chocolate bars are the best items you can get.
Dots on wax paper? Bit O' Honey? Okay, the competition is not fierce, But with the possible exceptions of Sour Patch Kids and Skittles, products manufactured precisely to the strange metabolisms of grade schoolers, a trick-or-treater goes through the evening take—after Mom removes the razor blades and nerve gas grenades—and puts chocolate in the pile marked Immediate Consumption.
Yet I had one exception. Let me throw out a childhood favorite now consigned to memory and hip vintage candy stores.
The Brach's Royal.
Manufactured by the historic Chicago confectioner, the Brach's Royal mixed caramel with a second flavor in a bite-sized delivery system more than a little like a Tootsie Roll. A Royal came in a brightly colored foil wrapper twisted closed on both ends. Pull the twists, and delicious flavor dropped into your lap, or onto the floor, where the dog ate it.
I liked all of the Brach's Royals except maple. (Note: I would love maple today.) My favorite by far was raspberry. I chose these over just about anything else in the bag. The obsession took on a life of its own. I would not say I preferred a raspberry Royal over, say, a mini-Milky Way, one of the rectangular chunks of M&M Mars goodness, that is, not these little squares you get today.
Yet I looked so forward to the Royals, a candy I rarely saw, that I greedily grabbed them while my sisters vacuumed up everything else, leaving me with an endgame of Krackels, the only candy bar as inevitably stale as a Butterfinger.
The gigantic Brach's manufacturing complex no longer functions as anything except urban decay, though Brach's-branded candies—including the essential chocolate stars—have carried on under various owners. The last of them merged with Ferrera Pan, another iconic Chicago candy company, in 2012.