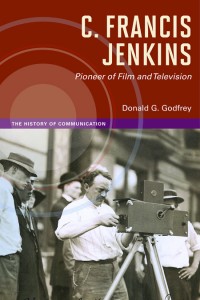 Born on August 22, 1867, inventor C. Francis Jenkins was an innovator of early film and television technology.
One of Jenkins's inventions, the Phantoscope projector, led to today's large-screen movies. However, one of his first projection demonstrations proved to be a bit controversial.
Donald Godfrey, author of C. Francis Jenkins, Pioneer of Film and Television, said in a recent blog Q&A that the inventor may have started a trend in moving pictures that has continued ever since…
Jenkins premiered his Phantoscope, in 1894, for a small group of family and friends at the Jenkins and Company Jewelry Store of Richmond Indiana. This was the world's first large-screen motion-picture exhibition. The store was closed for the demonstration. Curtains were draped over the windows darkening the room and a huge canvas screen was stretched out on the wall. The film began rolling and life sized images appeared depicting a dancing girl dressed in a butterfly costume. She danced across the screen to the amazement of the audience. As the ballerina lifted her skirt, to bow at the end of the performance, she revealed her ankle, and the ladies in the audience, all Quakers, stormed out of the store in protest over such a display of nudity. They went directly to the Church to pray for Jenkins soul. The men in the audience stayed on to see the show.

Arguably, this was the first protest over large screen motion picture film nudity.
Although Jenkins made a huge impact on television and film technology he also held a diverse array of patents including designs for airplane engines, an automobile, and even a sanitary milk carton. There is no documentary evidence that he attempted to put any images on the milk carton, however.