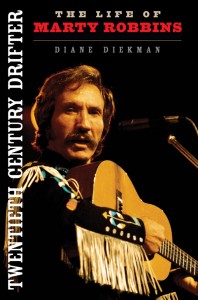 Country music superstar Marty Robbins was born on September 26, 1925.
In three decades as a singer and songwriter Robbins placed a staggering 94 songs on Billboard's country music charts. His musical style ranged from rockabilly rave-ups to pop standards and even Hawaiian songs.
In her biography Twentieth Century Drifter author Diane Diekman writes about the day in 1925 when Martin David Robinson was born:
Lillie, seven at the time, remembers their Grandma Heckle had come to spend a few days, a visit that pleased her because of the enjoyable times they spent together. Grandma woke the children on Sunday morning and told them of a surprise in their mother's room. Lillie recalls, "Mamma was still in bed, which was unusual. On a cot were two tiny babies, each with a fist in its mouth. Grandma said the doctor had come during the night and brought two little twin babies." When Lillie asked which was the boy, Grandma Heckle proudly pointed, and Lillie covered the baby's face with the blanket. She didn't want another brother. Three were enough.

She says she didn't know she was "covering the face of a future great country and western singer and composer." With his father's charm and his mother's work ethic and integrity, the boy would someday be Marty Robbins.