Tonight, 300 public television stations will unleash a coast-to-coast replay of the classic Motown 25 special from 1983. Michael Jackson's Moonwalk, reunions of Diana Ross and the Supremes and label-mates Smokey Robinson and the Miracles—trust us, children, it was a big deal at the time.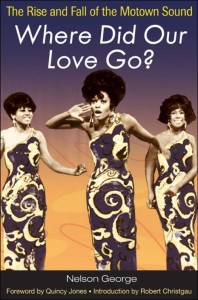 UIP publishes Where Did Our Love Go?, Nelson George's equally classic look at Motown's rise and rise and fall. The New York Daily News called it "a can't-put-down study of Berry Gordy and Motown." Unlike other hype that often finds its way onto a publisher's blog, this is one hundred percent accurate. Where Did Our Love Go? is an irresistible journey into the iconic record label's art as well as its business matters, with a trove of behind-the-scenes 411 on the personalities of performers and creators, the music industry sausage factory of the Sixties and Seventies, the genesis of the many classic songs primed to run through your head as soon as we type a title, and—what the heck—juice on everyone from Gordy on down. The story is epic. The music is beloved. The guy writing the tale is great.
In fact, rather than use this post as an opportunity to share our thoughts on a few Motown classics, let's turn the bandwidth over to Nelson George. Earworm warning ahead:
"My Guy," by Mary Wells
"My Guy," a perky love song propelled by a loping, bouncing beat that featured another delightful Smokey lyric ("Like a stamp to a letter, a bird to a feather, we stick together"), was a monster hit, bringing Wells a taste of international acclaim that would prove quite irresistible. Backed by the Earl Van Dyke Band, Wells was the first Motown act to travel to England and she did it in high style, touring with Beatles. She was treated like a queen, as John, Paul, George, and Ringo sang her praises to the English press. When Well's record went to number one in England as well (it was the first Tamla-Motown single to accomplish that overseas), many observers traced its acceptance directly to the Beatles' aggressive advocacy of Wells, and of Motown in general.
"Tracks of My Tears," by the Miracles
Of course, of his countless great songs, Smokey's masterpiece is "The Tracks of My Tears," a song so compelling, so beautiful, so resilient, that even Linda Ronstadt's wooden interpretation couldn't ruin it. As Smokey recalls, "I had that track for a while, but I really couldn't think of anything to fit it because it's such an odd musical progression. Finally, one day the chorus came to me. No one had ever said 'tracks of my tears.' The whole thought of tears was you wipe them away so no one could tell you've been crying. To say that I can't even wipe them away because they've left these tracks, you know, I thought it was a good idea."
"Uptight (Everything's Alright)," by Stevie Wonder
At fifteen, Stevie's voice had developed an aggressive, masculine edge. His vibrato now belonged to him, no longer to the whims of nature, and he used it to rip through a dance track at breakneck speed. Stevie contributed substantially to the rhythm arrangement, and as a result received his first songwriting credit. Stevie's ability to fuse different styles into a pleasing, commercially viable whole was foreshadowed on "Uptight"—he credited its driving tempo not to any R&B act, but to the Rolling Stones' "(I Can't Get No) Satisfaction." Stevie had toured with the Stones in 1964 and was impressed with how audiences had responded to their driving beat.
"You're All I Need," by Marvin Gaye and Tammi Terrell
On "You're All I Need" (number one soul in August 1968) Tammi is great again, but here Marvin matches her note for note. The record begins quietly, building majestically with Marvin, Tammi, [Valerie] Simpson, and [Nick] Ashford harmonizing on the title over a repeating four-note bass pattern. Gaye opens the song softly; there is a quiver in Tammi's voice as she comes in on the second verse. With each line their singing grows more abandoned as the music swells and falls and swells underneath them. The feeling is almost operatic, and the record is a landmark, as good as anything else created by Motown.
"I Heard It Through the Grapevine," by Gladys Knight and the Pips
In contrast to the beige sounds of Ross and Levi Stubbs, Gladys performed best when her church roots were given free rein: the Pips weren't placed on the Soul label by mistake. The key record, of course, was "I Heard It Through the Grapevine," a great, churning, tambourine-driven call-and-response song into which producer Norman Whitfield let Knight and company have considerable creative input because of his respect for the group. According to Knight, Whitfield allowed them to craft the song's brilliant vocal arrangement.
"What's Going On," by Marvin Gaye
At first, Marvin Gaye didn't want to record "What's Going On." "We begged him for about a month to do the tune," [co-writer Al] Cleveland recalls. "He hadn't had a record out in a year and a half, and he wasn't doing too good financially. As a result he was not into a good frame of mind." Marvin kept the [demo] tape while Cleveland, planning to relocate permanently to the West Coast to be close to Motown's new headquarters, traveled out to Los Angeles. While he was away, Marvin cut "What's Going On," and the record's timely message of social protest, plus Marvin's inspiring vocal performance, made it the most powerful record of 1971.