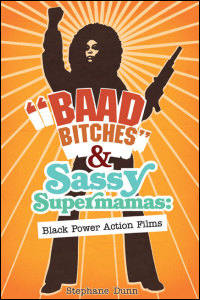 Yesterday's Atlanta Journal-Constitution featured a Q&A with Stephane Dunn, author of "Baad Bitches" and Sassy Supermamas: Black Power Action Films.
*****
Q: One of the most impressive aspects of the book is how it challenges what feels like a reflexive love of blaxploitation — especially among white male hipsters, who often overlook the sexist aspects of the genre.
A: Oh yeah, for me it's a critical mad love that I have — appreciate the political and cultural significance given the moment they came out of and what they meant to tons of black moviegoers hungry for empowered, cool heroes and reflections of black culture on the big screen, but deal with the racist and sexist subtexts that shaped the imagery and the themes, too. Though lots of folks, including some actors and players from that film genre, understandably reject that term "blaxploitation," it is apt if we use it to signify … [the] disturbing politics in the mix — the cheapening of the Black Power political dynamism, pornographic treatment of women, and so on.