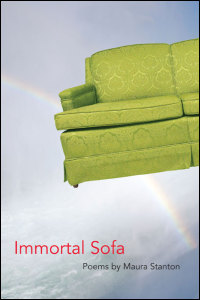 When I was a child growing up in the Midwest—in a suburb of Peoria, Illinois to be exact—my favorite time of week was Saturday morning. That's when my father, a salesman who was gone all week, drove us into the city.
It was exciting to leave behind the treeless prairie where new look-alike houses were going up like ships in muddy cornfields, and drive down a big hill toward the breathtaking Illinois River. We'd pass through old, tree-lined streets where people lived the way people lived in books, in big frame houses with front porches and bay windows and gabled roofs and sometimes even turrets. I used to imagine what it might be like to live in one of those wonderful houses, with an upstairs and a screened back porch and a fireplace, with big lilac bushes and maple trees shading every window. These houses were nothing at all like our own house. We lived in one of the new little suburban boxes where there was not the slightest hope of discovering a secret room behind the linen closet.
My brothers and sisters and I would all pile out of the station wagon at the red brick Public Library Branch on McClure Avenue, and we'd pour through the door, and clump down to the Children's and Young Adult Section on the lower level where we'd pick out our week's supply of books. My father got his books upstairs, and when he was finished, he'd come down and hurry us along, and I'd have to make quick decisions, because you were only allowed to check out so many books each week. Since I was a fast reader, I was always afraid I'd finish my books too soon so sometimes I'd try to talk one of my brothers into checking out a book I wanted to read, too.
I'd hold my stack of books on my lap on the way home, looking out at the big houses dreamily and a little less enviously than before. I couldn't wait to get back to my room and start reading. For reading a book—a really good book like The Wizard or Oz or The Secret Garden—was like getting to live for a little while in one of those sprawling, marvelous houses with high windows and back staircases and long hallways and dimly lit attics and breakfast nooks and maybe even a balcony.
And that's the way I still read. Entering a story, a poem, an essay, a play is like entering a strange house. For the first few sentences I'm fumbling with the front door, and getting used to the height of the ceilings in the foyer, and trying to see what kind of house it is, figuring out who lives there, what kind of furniture they have, what kind of views they have out the windows. And sometimes the house is a trick. It turns out to be a façade, and you step through the door into the hole that was dug out for the basement. But other times you find yourself in a house that seems familiar and strange at the same time, drawn on and on through the mysterious rooms, eager to turn the next corridor, open a closed door, and rush over to look out the high windows.
***
Maura Stanton is a professor of English and creative writing at Indiana University. She has published five books of poetry, including Snow on Snow and Glacier Wine, as well as a novel and three collections of short stories. Her new book, Immortal Sofa, will be published on July 28, 2008, by the University of Illinois Press.