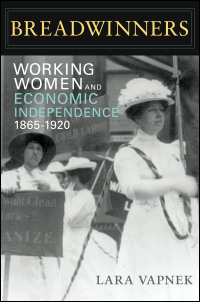 Searching for illustrations for my book, Breadwinners, recapped the challenges—and rewards—of writing about working women in the late 19th and early 20th centuries. Documentation of women who worked as servants, seamstresses, saleswomen, and factory hands has always been thin. The popular press tended to depict working women as unruly servants or downtrodden seamstresses.
My book contests these stereotypes by telling the stories of women who used their wage work to articulate a new sense of independence and to claim full rights of citizenship. After weeks of archival research, I was thrilled when I found images that captured the spirit of the women I knew so well from their diaries, letters, speeches, and investigations. My favorite discovery now graces the cover of the book: Maggie Hinchey, an Irish American laundry worker leading a parade of working women dressed in white to signal their support for suffrage.
In 1913 and 1914, Hinchey, an organizer for the Women's Trade Union League, stormed the states of New York and New Jersey to explain working women's need for the ballot. Her powerful appeal earned her an invitation to spread her message west, to union men in Montana and Nevada. This picture of Maggie Hinchey captures working women's determination to be recognized as breadwinners and shows how they organized to achieve their goals.
*****
Lara Vapnek, assistant professor of history at St. John's University in Queens, New York, is author of the new book Breadwinners: Working Women and Economic Independence, 1865-1920.