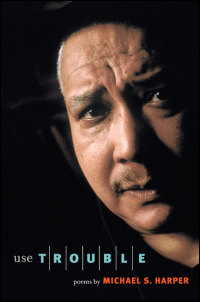 The University of Illinois Press will host the annual Book, Jacket and Journal Show, November 1-12. Sponsored by the Association of American University Presses, nearly 100 books and jackets—the best of university press publishing—will be on view.
University of Illinois Press designer Kelly Gray designed one of the books featured in the collection; poet Michael Harper's Use Trouble.
The display is open 8:00 a.m. to 5:00 p.m. weekdays, at the University of Illinois Press, 1325 S. Oak St. in Champaign. There will be a special reception on Friday, November 5, from 2:00-3:00 p.m. All viewings, and the reception, are free and open to the public.
A high quality catalog shows each entry in full color with typographic, paper, printing, and binding information, along with designers' and judges' comments. A limited number of catalog copies will be available for free.