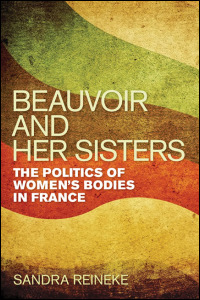 Beauvoir and Her Sisters examines how French women developed a sense of political engagement, or "sisterhood," through the act of public reading and writing in the 1970s and 1980s. Amongst others, the book draws attention to philosopher, writer, and feminist Simone de Beauvoir's role in the writing of the infamous "Manifesto of the 343," which was published on April 5, 1971 in the news magazine Nouvel Observateur by 343 women admitting publicly to having had illegal abortions. They did so in order to draw attention to persistent sexual and political inequalities, including repressive abortion laws, in Fifth Republic France. Arguably, this "manifesto" made the French women's liberation movement (MLF) public and made its demands for women's equal citizenship rights a salient political issue in French politics.

While the MLF as a potent political force did not last, reading and writing about women's shared experiences persist as a forceful political tool to spread and engage with feminist ideas. This is evidenced in the appearance of a new "manifesto" published on the fortieth anniversary of the original text in the newspaper Libération by 343 engaged feminists to protest planned cuts to family planning services in France. In the new "manifesto," entitled "Equality Now!" the signatories—some of whom had already signed the original text from 1971—urge all women in France to continue the important work of their "sisters," including Simone de Beauvoir, to end sexist oppression now.
The text for "Equality Now!" can be found here.
*****
Sandra Reineke is an assistant professor of political science, public affairs research, and women's studies at the University of Idaho and the author of Beauvoir and Her Sisters: The Politics of Women's Bodies in France.